Should I Rent or Buy a Router and Modem in 2023?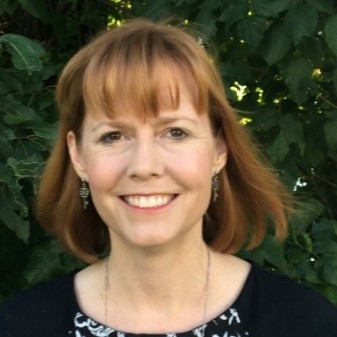 There's good news for internet customers in 2023. Thanks to rising competition, more ISPs are offering incentives such as free equipment rental.
Even major providers that once charged additional fees for both modem rental and router rental have begun to offer both for "free." (Free means the equipment is loaned to you in your basic monthly plan fee instead of being billed as an extra $10-15/month. The equipment still belongs to your ISP.)
But many providers still charge rental fees. And even if your provider offers to loan you your equipment for free, there are still some reasons you might want your own. So, is it better to rent or buy a router and modem?  The answer depends on your ISP's fees, which pieces of equipment are free with your plan, and what kind of modem and router are ideal for your needs.
The quality of your modem and router will affect the speed, security, and flexibility of your internet connectivity.
This guide compares annual equipment rental fees to 2023 prices for modems/routers. We'll explore different types of routers and modems to help you find choices that are compatible with your ISP's specs.  By the end of this article, you'll know if it's more cost-effective for you to rent or buy a router and modem.
Which Internet Service Providers Offer Free Modem, Router, or Both?
In 2023, internet service providers vary widely in how they offer the modem and router you need for internet access.
Some ISPs charge monthly fees for both your modem and your router rental. Others charge for the router only, while the modem is free. Many internet service providers now offer everything you need as a free bonus included with your standard monthly plan, whether that's a modem and router or a modem/router combo. With some ISPs, you'll get a loaned "free" modem/router with some kinds of internet plan but not with others.
The table below shows which internet service providers provide free modems, routers, or both.
Table: Equipment Rental Fees By Internet Provider
| | | | | |
| --- | --- | --- | --- | --- |
| Provider | Modem Rental Fee (monthly) | Router Rental Fee (monthly) | Combo Rental Fee (monthly) | Can You Supply Your Own? |
| Astound | | | $3-15 | yes |
| AT&T | free | free | | n/a |
| CenturyLink | | | $15 | yes |
| Cox | | | $13 | yes |
| Frontier | free | $10, included in advertised rate | | no |
| Google Fiber | free | free | | n/a |
| HughesNet | | | $15 | no |
| Mediacom | $13 | $10 | | yes |
| Metronet | free | free | | n/a |
| Optimum | | | free | n/a |
| Rise Broadband | $10 | $5-15 | | modem no, router yes |
| Spectrum | free | $5 | | yes |
| T-Mobile | | | free | n/a |
| Verizon DSL | | ($50 one-time fee) | | yes |
| Verizon Fios, LTE, 5G | free | free | | n/a |
| Windstream | | | $7-10 | yes |
| WideOpenWest | $14 | $10 | | yes |
| Xfinity | | | $14 | yes |
| Ziply | free | $10-20 | | yes |
Renting a Modem and Router from Internet Service Providers
As you can see in the table above, some ISPs charge a fee for either their modem or router or both, but they also allow you to provide your own equipment. If you're in that situation, you'll want more information to make the best choice about whether it's cheaper to rent or buy a router and modem.
First, let's explore why rental plans are so common with ISPs, and the advantages and disadvantages of renting.
Why do internet service providers rent equipment?
Internet service providers often make a hefty profit from their rental fees. First, they get their equipment below any customer's sticker price because of their bulk orders. Next, they often rent the same modem and router to one customer for several years. In the end, they make far more from renting you the equipment than it costs them to provide it. So in general, ISPs prefer it when customers rent equipment. In addition to being a source of revenue, rentals streamline installation and maximize system compatibility.
Source of revenue
Renting a modem is a source of revenue for many internet companies. The incentive to charge fees for equipment is so great that the federal government had to make a law to prevent internet service providers from charging the same router rental fees even when customers use their own equipment. But internet providers are in a highly competitive market, so many of them have begun to offer free equipment included with your plan.

Streamlining the internet installation process
Many ISPs are in the business of setting up thousands of internet and Wi-Fi connections per day. Renting equipment streamlines this process, because a technician often installs the modem and router that will create the home Wi-Fi network. Even when an ISP gives a customer a modem and router to self-install, the compatibility of the modem and router means that troubleshooting is much easier.
Many customers don't want to have to deal with setting up their router or modem. For these customers, it's worth the monthly rental fee to avoid the hassle.
They want to make sure they choose the right Internet plan and that their home network is working. And not having to do the installation themselves makes the prices worth it.
In addition, having an ISP-provided router and modem brings tech support advantages. So, if you are someone who prefers to do as little maintenance or troubleshooting as possible, you may just opt for renting from your ISP.
Compatibility between the modem/router and the ISP
A major deterrent to buying your own cable modem and router is the issue of compatibility. Most ISPs have rules about the kind of equipment they'll let you use. Each company is particular about which compatible modems they allow for their internet connections.
ISPs set up parameters for approved modems and routers. These parameters are often designed to increase your internet performance. However, that means that when you switch providers, you may have to buy a different modem and router. That's not ideal, as you won't save money if you have to keep purchasing more equipment every year.
| | |
| --- | --- |
| Pros of Renting a Modem and Router | Cons of Renting a Modem and Router |
| Professional setup provided | Could be more expensive in long run |
| | Rental prices subject to change |
| | |
| | Can't customize features you want |
Pros of renting a modem and Wi-Fi router
No Setup.  Buying a modem or router means you'll have to install it yourself. But renting a modem or router means that your Internet provider will deal with the hassle of setting it up. Even with self-install options using your ISP's equipment, the activity will be a plug-and-play. The modem and router are fully compatible and your ISP can control them by remote, which means they can do all the installation troubleshooting. You'll just sit back and enjoy your home network.
Free Replacement. Wireless devices and systems change all the time. And most ISPs like to upgrade devices every few years to keep up with technology. When you rent equipment, your Internet service provider handles everything. They are in charge of providing replacements when there are upgrades available.
Free Tech Support. If something goes wrong, your Internet provider will fix it. They own the modem and wireless router you're using. The tech department supports the equipment. And they will handle all issues related to Internet connectivity and Wi-Fi. They can even update your router firmware remotely.
Cons of renting a modem or Wi-Fi router
You'll end up paying more money in the long run by renting. When you first buy a modem or router, the upfront cost will seem like a lot of money. But after about a year or sometimes two, you'll save money by not paying a monthly fee. That might make it worth buying instead of renting.
Your provider can raise the fee anytime. Remember, your Internet service provider owns the modems and routers they rent. They can decide at any moment to raise the fees you pay per month without warning.
The device or devices your Internet service provider installs might not be high quality. The main purpose of cable companies is to provide Internet access. But, they also want to make extra money any way they can. One way they do this is by installing middle-of-the-road equipment.  Most modems that are on the lower end last between two to three years. Higher-end cable modems last well over five years.
Is It Better to Buy Your Router and Modem?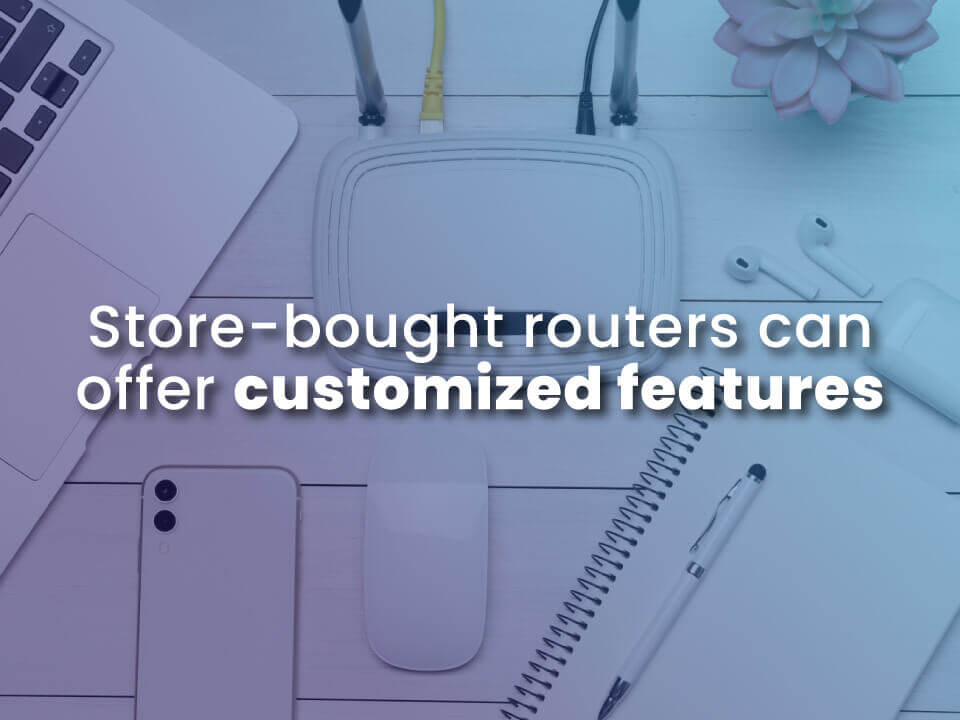 If your ISP is charging you for your equipment, then, yes, it is often better to buy your own router or modem.
But what if your internet service provider is offering their equipment for free?
There are still reasons why you may want to buy their own equipment even if the ISP provides their versions for free. You may want features that don't come with the ISP's modem or router. If you are gaming, you may want a gaming-capable router that will improve your performance. If you have a large house and you want to make sure you have fantastic coverage in your Wi-Fi network, you may want a mesh router that extends the strength and area of your Wi-Fi signal..
But before you make a purchase, ask yourself some of the following questions.
Are you tech-savvy?
When you own a router or modem, your Internet service provider is not responsible for fixing it or installing it. Compare all the compatible routers and modems and decide which device to purchase. Once you do this, ask yourself whether you think you'd be able to install it yourself. If the answer is yes, then go for it.
Are you going to live in the same coverage area for an extended period?
If you are planning to stay in an area where you can keep the same ISP for several years, you're in the safe zone for buying a Wi-Fi router or modem. If your living situation is going to change within a year, you may want to wait until you're settled before buying any internet equipment.
Remember that compatibility is a big issue with service providers. If you have to switch ISPs, there's a strong chance that any router or modem you end up buying now won't be compatible with the next Internet plan. It's better not to buy your own equipment if there's a good chance you might move out of your ISP's coverage area.
Is it cheaper to buy your own modem or router?
If  your internet provider is offering the equipment free as part of your monthly plan, then obviously you won't save money by buying your own router or modem.
But if you pay a monthly fee, it's likely that you'll save significantly by owning your equipment.
You'll have to weigh the benefits of the savings against the time you'll spend installing it or troubleshooting it. If you're comfortable with  learning how devices work, then making the purchase is wise.
Internet Provider
Rental Annual Cost

 

Cost to Buy Router or Modem
CenturyLink
$180
Budget router $60-77

Mesh router $100-400

Gaming router $250-400

Cox
$156
Mediacom
$276
Rise Broadband
$60-180
Spectrum
$60
Verizon DSL
$60
Modem $50-100

Modem/router combo $99-250

Windstream
$84-120
WideOpenWest
$288
Xfinity
$168
Ziply
$120-240
Specs to Consider When Buying Your Own Router
When you're thinking about buying your own router, you'll want to consider a few major factors.
Router speed, bandwidth and throughput
Internet speed can get confusing because people through around terms like "bandwidth" and "throughput." Here's the simple explanation. Bandwidth is how much potential speed your router or network can deliver when it's functioning at its best. So, your maximum potential speed (or your maximum data volume capacity) is your bandwidth. When you look at a router, the numbers you will get (usually in Mbps or megabits-per-second) identify your bandwidth.
Once you hook up your router to the actual internet connection you'll be using, you will discover your throughput.Throughput is the actual amount of data that passes over the network in a given time. Low throughput means that despite the maximum potential capacity of your router, the connection itself is having trouble or is slower than your router's bandwidth. So, for example, if you buy a router that has a maximum bandwidth of 1000 Mbps, but you hook it up to a connection that is unstable, throttled, or high-latency, your throughput may not match your potential bandwidth. And, of course, if you hook up to an internet connection that is only 25 Mbps, it won't matter if you have 1000 Mbps bandwidth in your router. Your router can't speed up past the connection speed you have purchased with your ISP plan.
Router range: do you need a mesh router?
When you look for the best router or mesh router, check the general range or coverage area of the router's network signal. If you live in a one-bedroom apartment, you will usually be fine with a basic router, as standard routers have ranges of 150 feet indoors and 300 feet outdoors. But if you live in a 3000 square foot house and there are thick walls or floors between you and the router, you may need a mesh router or a Wi-Fi extender or two positioned strategically throughout your home.

Security, privacy, and parental controls
Custom features on your router will affect your security and privacy. Some routers are harder to hack than others. Experts recommend encryption of  WPA2 (with AES, not TKIP) or preferably WPA3. The most secure routers will also have guest network capability and VPN compatibility.
If you have kids, you may want parental controls. Though software apps like Net Nanny can control specific devices, parental controls on your router are more powerful. Through your router, you can also control content on all your mobile devices and your smart TVs. Router controls can filter out content for your whole network at once. So, for example, if you don't want sexually-explicit content where your 7-year-old can see it, you can exclude it at the network level. Parental controls can also limit and track screen time so you know exactly how your internet is being used. Just be aware that no system is foolproof, especially against a curious child! Keep your eye on our child's internet activity as a safeguard, and protect your own passwords from little snoopers.
Dual band router or tri-band router?
Dual band routers have two bands, one at 2.4 Ghz and one at 5 Ghz. This will be enough for most users. But, if you have a lot of smart devices or cutting-edge devices in your home, then tri-band might be worth it. A tri-band router has and extra 5 Ghz band that allows you more bandwidth and flexibility for all those high-tech IoT gadgets.
How to Choose the Right Modem
Your Internet provider will inform you what kind of modem is compatible with their network. To choose the best modem that works for you and the ISP, you should familiarize yourself with the different standards available. There will be a different modem for each major type of service: cable, DSL, fiber, and satellite.
Buying a Cable Modem for Cable Internet Service
The two main factors you need to consider when choosing the right cable modem are:
DOCSIS standards
Your ISP's requirements
Data Over Cable Service Interface Specification (DOCSIS) Standards
DOCSIS refers to a set of standards for transferring data via cable lines.
The specifications of the standards are split into different ratings. For example, DOCSIS 1.0, DOCSIS 2.0, DOCSIS 3.1, or DOCSIS 4.0.
Each rating classification helps you achieve different internet speeds. A new modem with DOCSIS 4.0 can support download speeds of 10,000 Mbps and upload speeds of 6,000 Mbps. This type of cable modem is perfect for gigabit speeds, but that's not something most average users will need.
Don't get caught up in trying to purchase the newest model if you don't need it to boost speeds. However, be aware that current standards are backwards-compatible with older specs, which means they'll be able to support Internet speeds that are not as advanced.
To give you a better idea of the kind of internet speeds each standard can give you, here's a rundown of sample speeds.
| | | |
| --- | --- | --- |
| DOCSIS Version | Max download | Max upload |
| 1.0 | 38 Mbps | 9 Mbps |
| 1.1 | 38 Mbps | 9 Mbps |
| 2.0 | 38 Mbps | 27 Mbps |
| 3.0 | 1,000 Mbps | 200 Mbps |
| 3.1 | 10,000 Mbps | 2,000 Mbps |
| 4.0 | 10,000 Mbps | 6,000 Mbps |
ISP requirements
Now that you know the general capabilities of cable modems, go to your provider's website and check for a list of cable modems compatible with your internet plan.
They will have a list of the modems they recommend based on the model and specs. If you're unsure of what to look for before buying a cable modem, call them to double-check what the specific requirements are for compatibility with your service plan.
Every ISP requires modems to have different features and qualifications to be compatible with their system.
You can't assume that you'll simply need a DOCSIS 3.0 modem. Instead, they might require that customers have a DOCSIS 3.1 model that is backward-compatible.
Pay close attention to the number of downstream and upstream channels a modem supports. Sometimes ISPs want the modem to support multiple channels to enhance performance.
Depending on your home networking activities, you might need a special modem. If you use a home phone service, for example, you'll have to purchase a specific type of modem to allow your internet connection and your phone to operate together.

Buying a DSL Modem
DSL modems are a little simpler. DSL service comes in three types. You'll just need to match your modem to your type of internet service. Also, all DSL modems need a telephone jack, which is different from an ethernet port.
Three types of DSL modem
ADSL (8Mbps download/1 Mbps upload)
ADSL2+ (24 Mbps download/1.4 Mbps upload)
VDSL2 (50 Mbps download/15 Mbps upload)
The ONT: Your "Modem" for Fiber-Optic Internet
Fiber internet can have two ways of connecting to your home, and your connection will determine which kind of modem or router you need.
If the fiber is "Fiber to the Curb" (FTTC) there will be fiber-optic lines all the way to the curb of your house, but the last few feet to your home's wall will be served by cable. This means you will have a cable modem and router to connect to the fiber internet service.
If your fiber access is "Fiber to the Home" (FTTH), the fiber-optic lines will run all the way to the wall of your home. There, they will end in an Optical Network Terminal (ONT) which is fiber's version of a modem (It's not really a modem, but it converts the fiber signal just like a modem would usually do). That ONT will then have an ethernet connection to your fiber-compatible router.
If you have Fiber to the Home (FTTH) internet, you won't need to choose whether to buy a modem. You will only be choosing whether to buy your own router or take the one your fiber provider offers you.

Should I Rent or Buy a Router and Modem for Satellite Internet?
When you order satellite internet service, your circumstances are special because you are using a completely different technology.
Satellite providers require you to use their proprietary technology to have satellite internet service. However, you still have the choice to rent or buy your router/modem combo.
Let's use HughesNet as an example. If you think you will have your satellite internet service for more than two years, you should buy the router/modem combo from HughesNet right away. The rental fee is $15/month. The purchase price is $350. It will take about 24 months for you to have paid the full price of the modem/router. Clearly, it's better if you buy the modem/router at the beginning. When you hit year 3, you will have saved the $350 that you would have spent on the monthly rental fee for two years.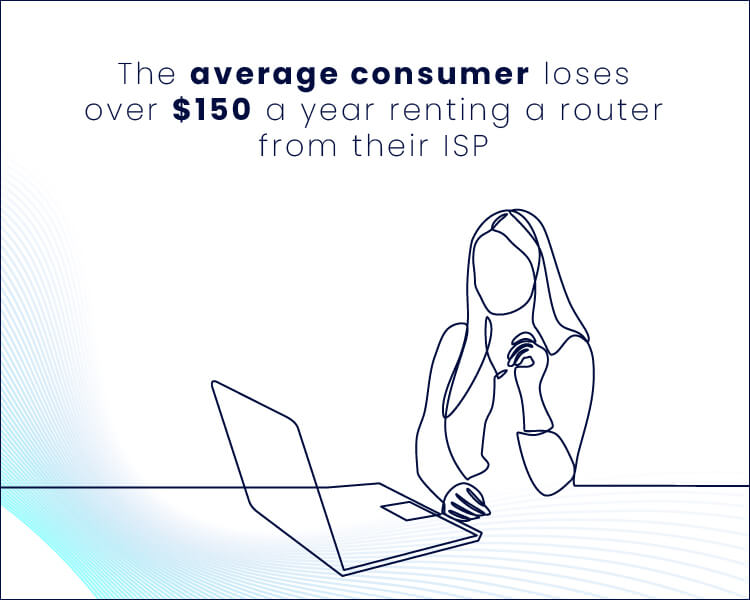 Can I Just Have a Modem and Have Internet?
Technically, yes. But, this is not recommended.
Modems are not smart pieces of hardware. If you need to, you can get by with just a modem and connect it to a computer. But, it won't provide you with any kind of Internet safety. Routers give you the option to adjust security settings and make your network safer against hackers. Routers also set up a network for multiple wireless devices in your home, where a modem only gives you a connection for one wireless device.
Does Buying Your Own Modem Increase Internet Speed?
No. Modems can help maximize the speed that your ISP allows. But, modems cannot increase Internet speed.
Modems can improve whatever speeds you have set up through your service plan.
Let's say you're supposed to have a speed of 150Mbps. A rented modem might get overcrowded and only allow you to experience speeds that are around 125Mbps. When you own your equipment, you can remove the bottleneck and allow the connection to improve to its maximum potential.
Things to Consider When Buying a Router and Modem
Let's recap everything you need to consider to  figure out whether you want to rent or buy.
If your internet service provider offers free equipment, the discussion changes. The question is no longer whether you will save money. Instead, you need to ask whether you do special high-data activities (such as gaming) for which your ISP-provided modem and router are not ideal. Sometimes, you may want a feature such as parental controls that doesn't come with your ISP router. You won't save money by buying your own, but it may be worth it to you if you want special features that your ISP's equipment can't give you.
Think about how much you want to spend. Buying will save you money in the long run if you are currently paying a rental fee. But your initial purchase outlay will need to fit your budget. Take a look at the features that the equipment offers and make sure that it can enhance your connection. The advantages at each purchase tier will help you decide whether you want to pay more for a router with all the bells and whistles.
Make sure the equipment is compatible with your ISP. It wouldn't make sense to find the perfect router and modem, only to find out that it's not compatible with your internet service. Double-check the requirements before you make the purchase.
Ensure that the router you purchase can support the speed you pay for. Be very careful that your router bandwidth isn't slower than your current internet plan speed! Try to look for a router that offers more speed than your service plan. This will give you the best chances of enjoying the fastest Wi-Fi speeds.
Weigh all your options before you decide if you want to rent or buy. There's no wrong or right answer. There's only what's right for your internet preferences and your budget.