How To Set Up Your Smart Home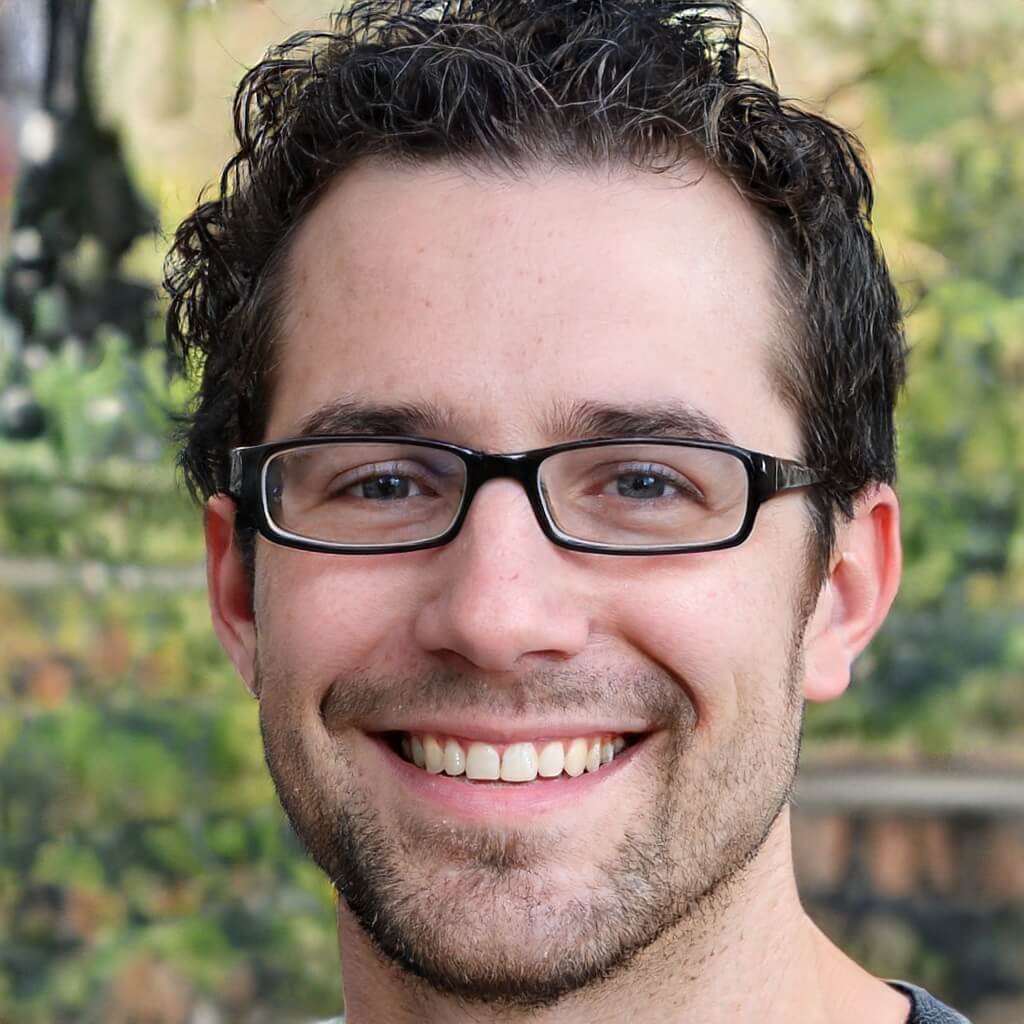 The digital revolution has transformed nearly every aspect of our lives and is reaching our homes, making them "smarter" than they ever have been before.
However, while these so-called "smart homes" are just making their way into the mainstream now, the idea has been around for some time. The original concept dates back to the 1970s with the invention of the X10 system, although it never really caught on. But innovations over the past twenty years, particularly WiFi at home and higher-speed internet connections throughout society, along with advancements in artificial intelligence, have made the smart home a reality, and people are really starting to buy into this phenomenon – the smart home market is currently worth an estimated $64 billion.
If you're interested in setting up a smart home, though, you may be finding it difficult to know where to start – there are tons of products and services out there to choose from. So, we've put together this guide to go over everything you need to know to set up a killer smart home and use technology to improve your life.
What is a Smart Home?
For those of you who remember the Disney Channel movie "Smart House," you may have a slightly distorted view of what a smart home actually is, although the basic concept is somewhat similar to what we saw in the movie.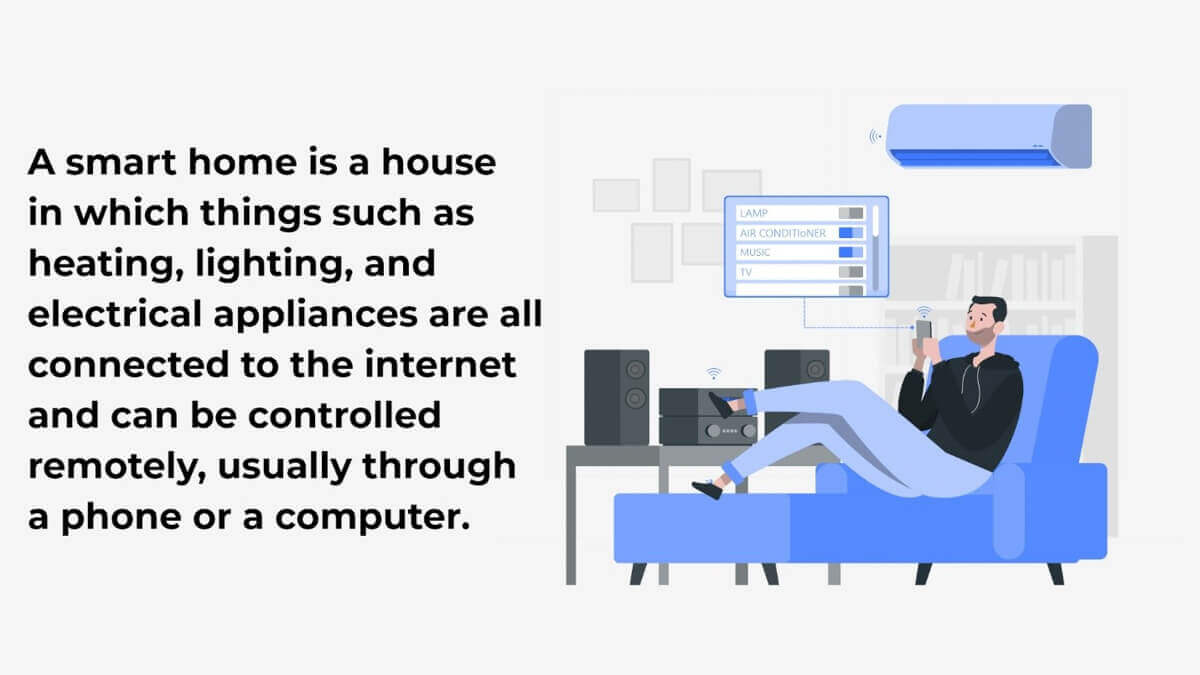 A smart home is a house where things such as heating, lighting, and electrical appliances are all connected to the internet and can be controlled remotely, usually through a phone or a computer.
It is not an intelligent, free-thinking home that will one day turn on you (like the movie suggests) but rather a way to design your home to be more convenient and efficient.
The Benefits of a Smart Home and Smart Home Technology
Before going into the specific things you need to do to set up your smart home, we think it's important to review some of the major pros and cons of such an arrangement. Doing this will help you decide what smart home technology you want to implement and which you want to ignore.
Of the many benefits to smart home technology, here are three of the most significant:
Convenience – The primary purpose of any smart home is to make your life easier. As a result, when you're thinking about which setup you want, it's essential to keep in mind what will be most convenient for you. Some of this technology has a learning curve, but if it's so complex you can barely work it, why bother? You're merely going to give yourself an even bigger headache.
Cost Savings – Smart home tech is also really good at helping you save money. It collects data about how you use specific devices and appliances in your home, and/or controls the flow of electricity based on what it learns about you. This leads to making sure appliances are turned off, climate control is running efficiently, and things are updated when they need to be, all of which can produce tremendous savings.
Safety and security – In a similar light, smart home tech is also good for keeping you safe. It can monitor your home when you're not there and detect and report suspicious activities so that you can be on top of all possible threats. It will also do things such as remind you when to update smoke and carbon monoxide detectors, which is crucial to keeping your home safe.
Fashion – Smart home tech is also a fashion statement. There's no denying that having the latest gadget makes you look cool and trendy, and while you may want to keep this aspect of the technology in mind when buying products, don't let it ultimately control what you decide to buy and implement.
Remembering these benefits while searching for smart tech to buy and implement is important. It will help you push past the flash and filter out the things don't need, leading to smarter purchases and a better overall smart home experience.
The Downsides of Smart Homes and Smart Home Technology
Smart homes have a lot to offer, but there are some downsides to these accessories. Knowing them will help you avoid the products and services you don't need, saving you money and time.
The main disadvantages of smart home technology are:
Expense – The cost of these devices and their accompanying technology can, at times, be exorbitant, especially when they are new to the market. Also, newer gadgets tend to have kinks, making them even less of a value. We mentioned smart home tech is supposed to save you money, so make sure when you're looking at options that you've figured out if the investment is worth it in the long run.
Privacy – The way smart home tech works is that it collects data on you, and in the case of personal assistants such as Amazon Alexa or Google Assistant, they also record your voice. These companies claim to protect your data, but this is at best an exaggeration and at worse an outright lie. There are countless anecdotes of people talking about a particular product and then receiving ads for it soon after, even when they've never searched for it online. Make sure you're fully aware of what privacy sacrifices you're making when you buy a smart home gadget, and, more importantly, that you're entirely comfortable doing this.
Compatibility and Complexity – Remember, smart home tech is supposed to make your life easier. If a gadget or service is hard to use, then what's the point? Another thing to consider is the compatibility of a device with the others in your home; if you need twenty different apps for twenty different devices, then the convenience smart home tech can provide has pretty much disappeared.
Knowing the potential pitfalls of smart home technology will help you better understand when something is actually going to improve your life, making it easier to choose which ones you want to buy and install in your home.
How to Set Up Your Smart Home
Now that we've gone over what a smart home is and the pros and cons of turning your house into one, let's dive into actually setting up your smart home.
There are five steps (actually four, as you'll see in a bit) you will need to follow, which are outlined below.
Read on to find out how you can build an incredible smart home:
Step 1: Ensure You Have the Right Internet Connection
Before you start looking at the different gadgets and services out there, it's vital that you first make sure you have the right technological infrastructure to make a smart home practical. In general, this means two things: speed and WiFi range.
In terms of speed, most of the devices you will buy don't need too much. But if you plan to connect a lot of devices to your network that will work next to the many others you already use in the home, then double-check your network is up to the task.
As for an actual number, we would recommend a connection that offers at least 25 Mbps of speed, although 50+ Mbps is probably best if you do a lot of streaming and video chatting.
The other thing you need to consider is range, meaning: how far does your WiFi signal reach?
Smart home devices are usually scattered around the entire house. Larger buildings, or those with lots of obtuse features, such as large walls or intricate metal fixtures, will make it harder for devices located far from the router to connect.
We recommend walking around your house with a phone or computer and performing internet speed tests to see if your connection is up to the task. Again, most smart home devices use very little data, but if they're located in a room where the connection is blocked or is slow, they're not going to work at their optimum level.
Once you've done this and are satisfied your network can handle smart home technology, it's time to start thinking about the devices you want to use.
Step 2: Choose the Smart Home Technology for You
When you first start researching the many different smart home products and services out there, things can get overwhelming quickly. We've broken them down into a few different areas and provided you with some suggestions for products (which are just that, suggestions) to give you an idea of what's out there and what might be the best thing for you.
Hubs
Probably the first choice you will have to make in your smart home journey is which "hub" you want to use if you want to use one.
These devices connect all of your smart home technology and allow you to control them through one app, making it much easier for you to manage your smart home. Almost all devices come with their own apps, but if you're going to use multiple devices, this can get confusing quickly.
The two biggest names out there in the world of smart home hubs are Wink and Samsung SmartThings. Both have their own devices you can use, but they also connect to other devices offered by different companies. However, what makes them good is their accompanying apps, which facilitate smart home integration and ensure everything can be controlled from one spot.
However, not every device is compatible with just one hub. Make sure you check out what you can and can't use before you make a purchase.
Once you have a hub, it's generally easy to set it up. It will automatically detect the different devices you have in the home, and once you have synced, you can control everything, from the lights to the TV to the thermostat, from one place.
These devices are slightly different from the personal assistants we're about to discuss. They work with a broader range of internet protocols, meaning they are compatible with many more devices. The leading assistants on the market, such as Amazon Alexa and Google Assistant, can work as hubs, but they often work with fewer devices.
As a result, if you're planning on getting lots of smart appliances and other gadgets, you'll probably want to go for a hub such as Wink or Samsung SmartThings. The latter has a bit more functionality for those who feel comfortable customizing their Android tech.
Smart Home Assistants
Next to hubs, the most useful piece of smart home tech you can buy is a personal assistant, of which there are three main choices: Amazon Alexa, Google Assistant, and Apple Siri. These devices can work like the hubs we described above, but this is only recommended for those who want to get a few smart home accessories.
If this describes you, then which one you buy will depend on your personal preferences and needs.
Here's a breakdown of each one:
Amazon Alexa
Amazon Alexa, which comes built into Amazon Echo and Echo Dot speakers, is currently the leader amongst all smart speakers/personal assistants, and for a good reason. It's a solid choice for anyone who wants a simple way to connect their many devices and make their home smarter. Here's a more detailed breakdown of the pros and cons of the Amazon Alexa system.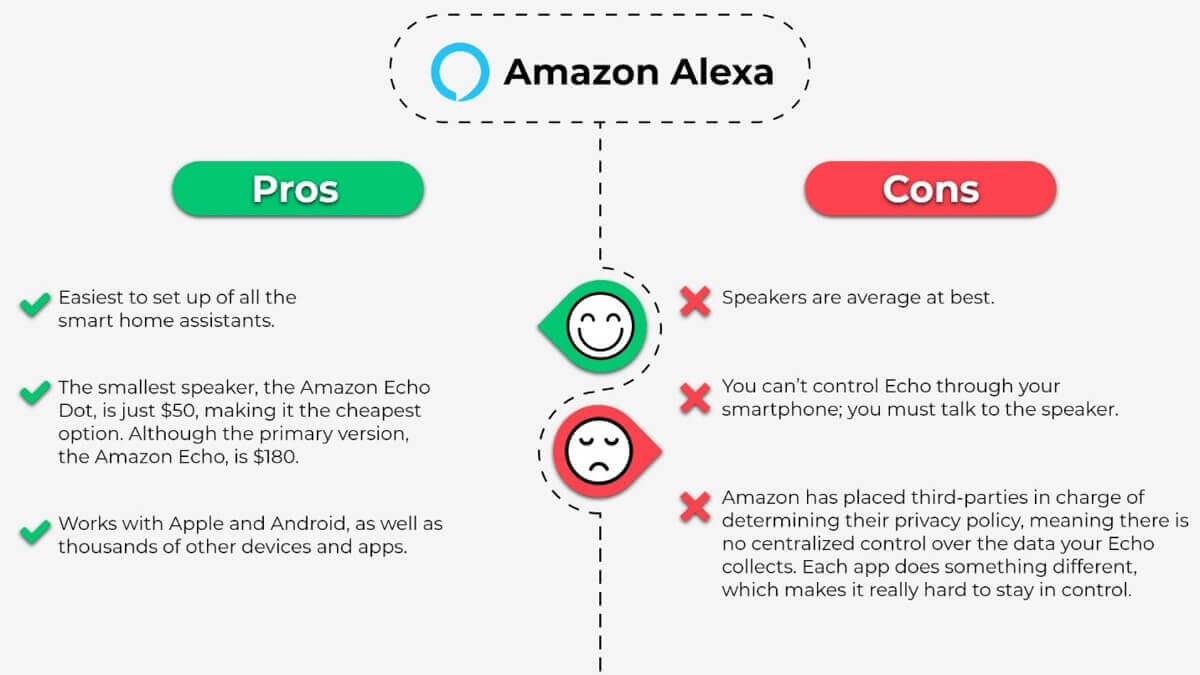 Pros:
Easiest to set up of all the smart home assistants
The smallest speaker, the Amazon Echo Dot, is just $50, making it the cheapest option. Although the primary version, the Amazon Echo, is $180.
Works with Apple and Android, as well as thousands of other devices and apps.
Cons:
Speakers are average at best.
You can't control Echo through your smartphone; you must talk to the speaker
Amazon has placed third-parties in charge of determining their privacy policy, meaning there is no centralized control over the data your Echo collects. Each app does something different, which makes it hard to stay in control.
Google Assistant
Right behind Amazon Alexa in terms of sales is Google's personal assistant, aptly named Google Assistant. It runs through the Google Home app and is another user-friendly smart home speaker/hub that will easily integrate your smart home devices.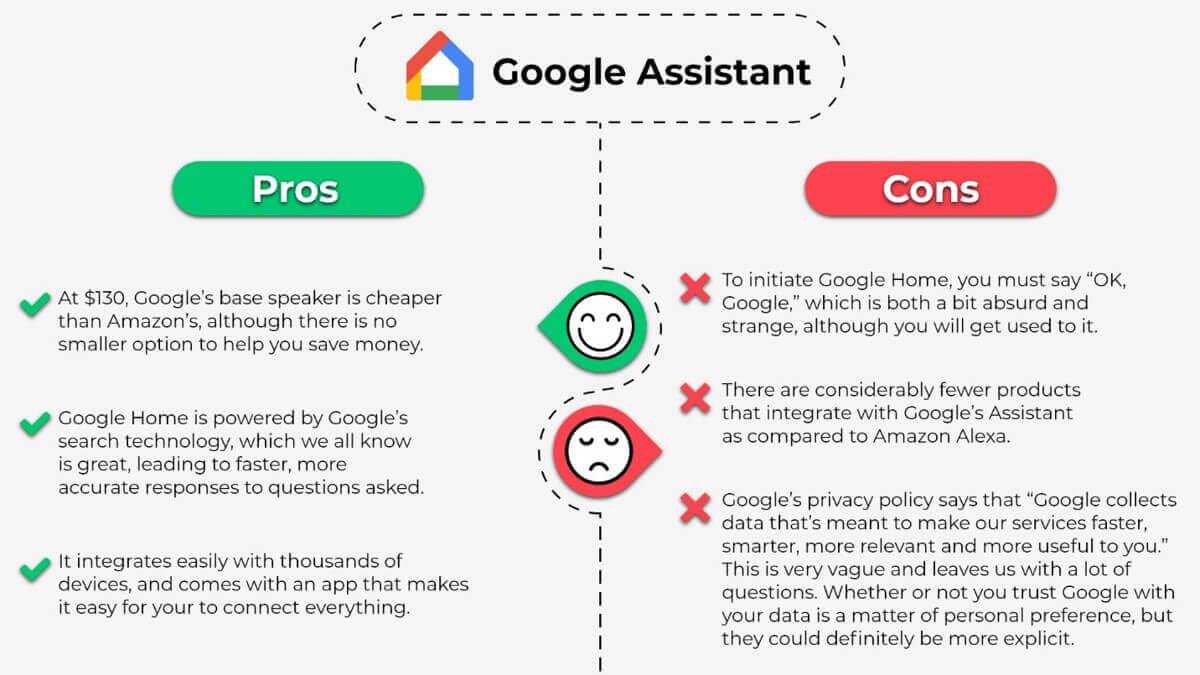 Here's a breakdown of what's good and bad about this assistant:
Pros:
At $130, Google's base speaker is cheaper than Amazon's, although there is no smaller option to help you save money.
Google Home is powered by Google's search technology, which we all know is excellent, leading to faster, more accurate responses to questions asked.
It integrates easily with thousands of devices and comes with an app that makes it easy for you to connect everything.
Cons:
To initiate Google Home, you must say "OK, Google," which is both a bit absurd and strange, although you will get used to it.
There are considerably fewer products that integrate with Google's Assistant as compared to Amazon Alexa.
Google's privacy policy says, "Google collects data that's meant to make our services faster, smarter, more relevant and more useful to you." This is very vague and leaves us with a lot of questions. Whether or not you trust Google with your data is a matter of personal preference, but they could definitely be more explicit.
Apple Siri
Third on the list is Apple Siri, which came out first of all three as a feature on iPhones and other devices, but that is now a standalone smart home service. The Apple HomePod works much like the Echo or Google Home, but with some pretty significant differences.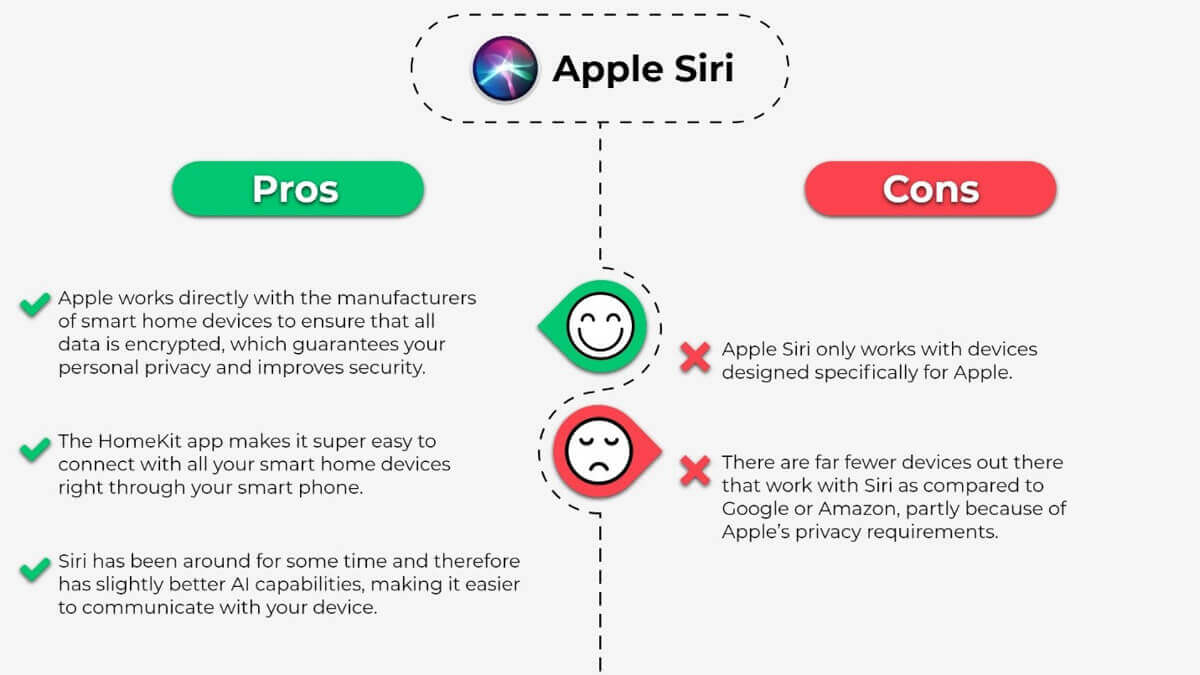 Here is a full summary of the positive and negatives of Apple Siri:
Pros:
Apple works directly with smart home device manufacturers to ensure that all data is encrypted, which guarantees your privacy and improves security.
The HomeKit app makes it easy to connect with all your smart home devices right through your smartphone.
Siri has been around for some time and therefore has slightly better AI capabilities, making it easier to communicate with your device.
Cons:
Apple Siri only works with devices designed specifically for Apple.
There are far fewer devices out there that work with Siri as compared to Google or Amazon, partly because of Apple's privacy requirements.
Appliances and Hardware
Once you've chosen a hub and/or assistant, you can start looking at other devices. We could spend hours outlining the many different options, but here is a summary of some of the most relevant/practical:
Lighting – Smart lights can be turned on and off from anywhere, and in some cases, you can also control the color and brightness, choose from preset moods, and make your home the way you want. Some good options include those offered Philips Hue, Lifx, and Sengled, although there are many, many more.
Doorbells, locks, and security cameras – Products such as Ring show how nearly any part of your home can be converted into something smart. These devices allow you to monitor your home from a distance, alert authorities if needed, and lock and unlock doors remotely.
Washers, dryers, fridges, and dishwashers – Smart versions of these devices can be controlled remotely, send notifications when there is an issue (such as a load is done, or, in the case of a refrigerator, when it's time to buy more milk), and also collect usage data to help you save money.
Televisions and other home entertainment devices – Set recordings, access parental controls, find new shows, and change the channel with your voice using a smart TV. The vast majority of televisions being sold on the market today have this capability, so you may already have it and just need to set it up.
Thermostats – These devices have always been a way to save money, but smart tech makes them even better. They collect data about the climate in your home and offer suggestions to save you money, and they can also be controlled remotely so you can adjust the temperature while you're away.
Smart Plugs – For devices that aren't already "smart," you can plug them into a smart plug and control them that way. This is great for things such as fans and air conditioners, as well as lights and TVs. One example of a smart plug is the Amazon Smart Plug, which does things like cut the power supply to devices when other devices are off, e.g., it stops power to your Blu-ray player when the TV is off, saving you money and reducing the risk of an electrical mishap.
These different gadgets are amongst the most popular on the smart home market today, but they do not represent all of what's out there.
However, if you're new to smart home tech, we recommend you start here. These devices have been around for some time, meaning they are cheaper and likely to be easier to use than those new to the market. If you find that these are a benefit to your life, then you can consider going further.
Bridged and Non-Bridged Devices
One final thing we wanted to cover about smart home tech is the concept of a bridge. "Bridged" devices come already set up to connect to your WiFi, whereas "non-bridged" devices need to be plugged into an adapter that will communicate with your router.
This isn't a big deal, but it could become a cosmetic or practical issue. These bridging devices are bigger and will take up outlet space. Ideally, look for devices that you can just plug in normally, but if you can't find something that does this, just know you will need to accommodate this adapter for your device to work.
Step 3: Link Up Your Devices
Once you've chosen your devices and plugged them in where you want them, it's time to set them up. This is a pretty straightforward process that can be done easily through the app associated with whichever smartphone hub you've chosen.
Simply open the program, and if the new device doesn't automatically appear, look for an "add a device" feature. The app should then prompt you with what you need to do to ensure your device is connected and ready to use.
If you have any issues, there are plenty of support pages out there to help you, but you will probably find that unplugging and plugging back in a malfunctioning device works far more often than you would expect.
Step 4: Secure Your Smart Home
The penultimate step in setting up your smart home, which we might say is the most important, is security. Smart home devices and accessories are a wonderful convenience of modern life. Still, as we all know, there are lots of hackers and other demons out there on the web, and each device you put in your home is a potential weak point to be exploited by evildoers. Considering these devices all carry sensitive personal information, this can be unnerving, to say the least.
Fortunately, smart home tech is not widespread enough yet, and still operates on enough different platforms, that it's not receiving a lot of attention from the hacker community. But that can and probably will change moving forward.
Make sure your WiFi network is secured with a strong password that's tough to guess (not your address or 123456). Contact your ISP to potentially upgrade your modem/router so that the connection between them and your devices is adequately encrypted and more difficult for them to hack. Most are offering this standard to new customers, but you may need to speak up to ensure you benefit from this security and keep your smart home safe.
Step 5: Enjoy Your Smart Home
OK, this last step isn't really a step involved in setting up your smart home, but it's still important! Smart home technology is changing how we design our homes and live our lives, and it presents an opportunity for us to make our lives easier and more convenient.
However, there is a learning curve, so we suggest you start small and then add things as you go. Soon, you'll be a smart home whiz who can control nearly everything in your home by simply playing with an app on your phone. What a world!