Your Guide to Hindi Channels on DISH Network
When you're far away from home, you look for comfort wherever you can get it. And if you're from India, there's nothing like a good dose of Hindi Television Entertainment to get you through the rough times.
There are 4.1 million Indian-Americans in the United States. And as the second-largest immigrant group, it's no surprise that Hindi programming is so popular.
DISH Network understands local channels can't provide you with everything you crave. Even though premium channels like HBO and Showtime have some international programming available, they can't compare to an afternoon spent watching Good Afternoon Gujarat.
DISH Network offers more than one DISH TV package so that you can add programming that caters to your TV needs. International TV is more accessible than ever.
There's no reason why you shouldn't be able to watch family-based entertainment from the country you call home. Here are all the popular Hindi channels you can access with your DISH service.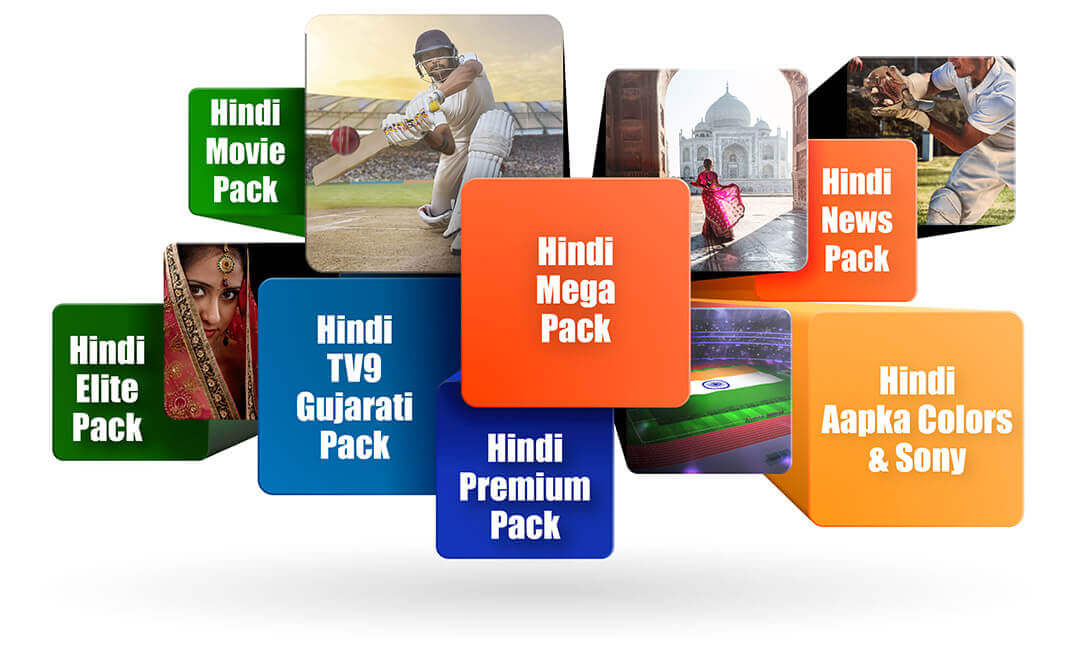 DISH Network Indian Channels
DISH Satellite TV offers numerous International packages that include Hindi programming. And you can add on programming whenever you want to upgrade to an elite pack.
Hindi packages start as low as $19.99 per month. They include:
The International basic package also includes free standard professional installation, a smart DVR (like the Hopper Duo Smart DVR), and free HD and 4k channels.
Watching Hindi Channels in the USA
DISH Network provides you with programming package upgrades for high-quality entertainment. This allows you to choose additional TV that ranges from a Hindi movie pack with action-packed thrillers, to a Hindi News Pack that will keep you updated with day-to-day metro news.
DISH Network Equipment
Before you start enjoying DISH Network International programming, you'll need to have the correct equipment. All DISH Network plans include a 2-year price guarantee and come with a free DISH Voice remote and DVR.
Remember that you can always add upgraded or additional receivers for a fee. Upfront activation and/or receiver upgrade fees may apply based on credit qualification.
If you're in the 55+ group, you're in luck. DISH Network has a special offer for 55+ customers that includes free in-home visits to troubleshoot, equipment replacement, and DISH Protect Plus free for six months.
DISH Network Hindi Packages
Although it's nice to have one convenient package with all the programming you're looking for, you don't have to settle for just one. DISH Network offers you multiple add-ons that can complement your base TV package and add multiple layers to your International world package.
Hindi Language TV Packs
The following packages offer you programming in Hindi. All you need is a base TV package and an Internet-connected Hopper so that you can watch live and recorded TV.
Hindi Elite Pack – $34.99 per Month
The Hindi Elite pack is perfect if you want to watch a little bit of everything. With Hindi Elite, you can get the best programming without sacrificing your budget.
This package includes everything; from family dramas to movie channels, you're bound to find something for every member of the family. Plus, it includes sports channels like SET and Willow Cricket in HD.
Hindi Premium Pack – $44.99 per Month
There's no shortage of quality programming with the Hindi Premium pack. the DISH Network package offers a good dose of music videos through MTV India, movie channels like Zee Cinema, and news programming through Aaj Tak – covering all the current issues in India and around the world.
Hindi Mega Pack – $54.99 per Month
This is the number 1 choice for most DISH Network customers looking for a lot more than what a regular DISH Movie pack can offer. If you're looking for complete entertainment, no other Hindi package will offer what the Mega Pack can.
Not only will you get access to music videos and news channels like Aaj Tak. You will also have access to Zee Cinema for a plethora of movies, along with more channels that offer family dramas and lifestyle programs. It's a little bit of everything and more.
Hindi Channel Add-On Packs
If you don't want to go with the Hindi Mega Pack or Hindi Premium Package, you can always add individual channels to your DISH TV service. That's the great thing about DISH Network; it's flexible with your needs.
Hindi Sony & Zee TV Pack – $24.99 per Month
If your family enjoys live concerts, talk shows, and an ongoing feed with a 24-hour news center, then the Hindi Sony & Zee TV pack is perfect for you. Zee TV is popular among customers that want programming in the Hindi language.
Besides all the programming that Zee TV offers, you also have the option of adding Zee Cinema and Zee News as part of your International programming package.
The best part is that you don't have to worry about not being able to watch Zee TV or Zee Cinema on the go. Both channels are available through the DISH Network app on any compatible mobile device.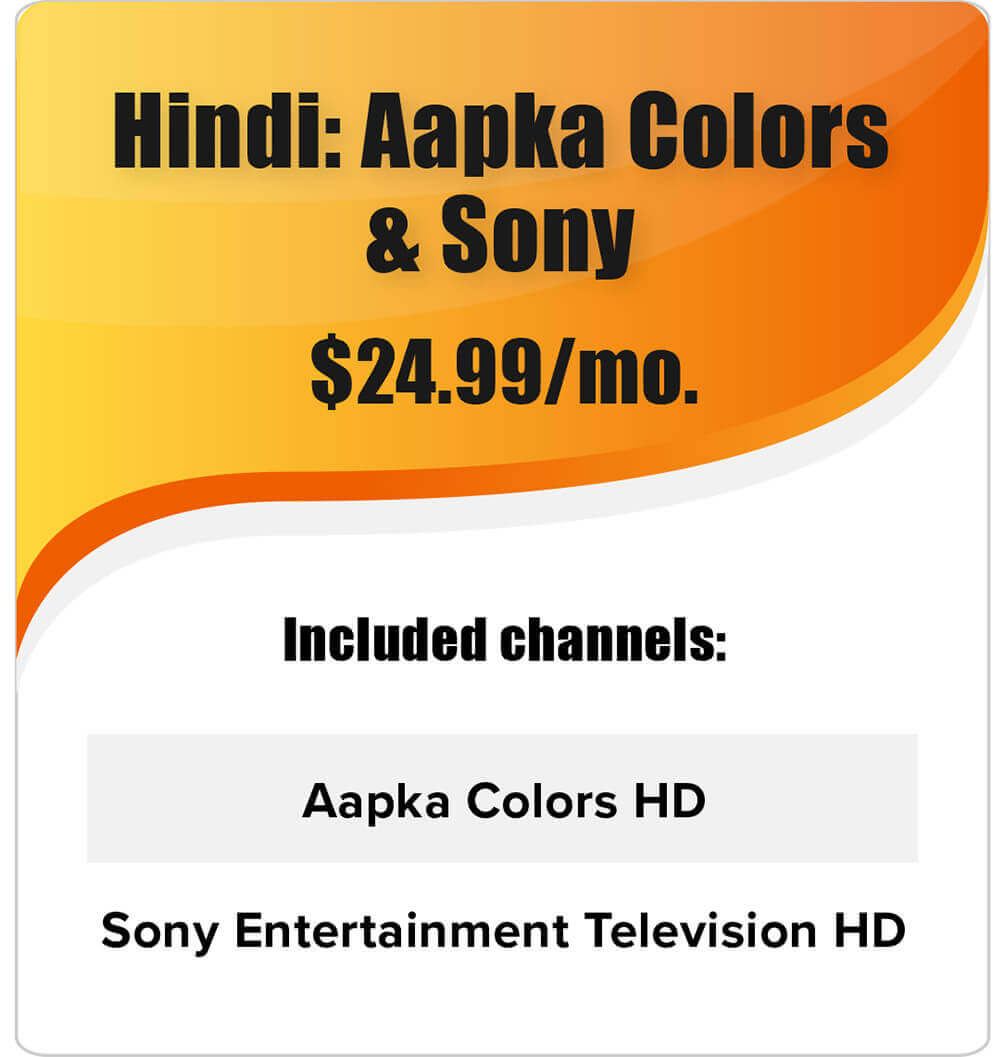 Hindi AAPKA COLORS & Sony Pack – $24.99 per Month
The Aapka Colors and Sony Pack give you a variety of programming, like family drama and movies from Bollywood. Plus, if you're looking to binge on reality TV shows, then this add-on is great for your household.
TV9 Gujarat – $10 per Month
Aside from all the entertainment that DISH TV offers, you also have great access to news. If you have a DISH Voice Remote, all you have to do is press the "Voice Remote" button and speak the name of the channel you want to watch.
If you're looking for news, adding TV9 can provide you with 24-hour news from the best reporters and anchors in the field. TV9 stands for a value system that includes truth, impartiality, and reliability.
Keep in mind that to watch programming in HD, there are HD service fees added to your bill. To add TV9, DISH Network requires an additional subscription to qualifying international programming.
Spiritual Pack – $10 per Month
This package is dedicated to subjects like religion, culture, and vast and timeless knowledge that you can apply to everyday life. Programming will feature spiritual discourses along with religious events that aim to uplift your spirits and enhance your meditation techniques.
Adding the Spiritual Pack is easy. All you have to do is purchase any of the other Hindi packages available to be eligible for the add-on.
Zee Cinema Pack – $10 per Month
Although you can get Zee Cinema as part of the Hindi Mega Pack, you can still enjoy this channel when you subscribe to any qualifying international programming on DISH Network. With this DISH TV movie pack, you'll have access to thousands of top-rated movies and features from Bollywood films.
Hindi News Pack – $5 per Month
If you're more interested in getting the latest news with channels like Aaj Tak, then this is the perfect package for you. The Hindi News pack provides you with news from top-rated sources, along with the most comprehensive news coverage in India.
DISH Network International Channels
Right along with all the Hindi programming, DISH Network also offers different International channels to every one of their customers. In fact, DISH Network has channels available in 28 languages and from all over the world.
European Languages
Polish

German

Greek

Portuguese

French
South Asian Languages
Bangla

Hindi

Kannada

Malayalam

Marathi

Punjabi

Tamil

Telugu

Urdu
East Asian Languages
Cantonese

Chinese

Filipino

Taiwanese
Middle Eastern Languages
South American Languages
DISH TV International Packages
If you're looking for additional programming from other countries, DISH Network has several packages you can choose from.
Hindi Mega Pack

: 35 DISH Hindi channels that include a little bit of everything. Programming includes reality TV shows, sitcoms, family dramas, news, and more.

Punjabi Mega Pack:

Wide variety of programming fit for the entire family. Enjoy documentaries, movies, and children's programs all in the Punjabi language.

Brazilian TV:

This DISH Network package offers all the best programming from Brazil. Some of the most popular programs include telenovelas, sports, classical movies, and music.

Arabic Elite Super Pack:

With DISH Network, Arabic Channels are more accessible than ever before. Enjoy programming from 43 Arabic channels that include dramas, movies, and lots of soccer coverage.

Chinese TV:

The Great Wall TV package offers you the best Chinese programming available. With this DISH Network package, you can enjoy programming from an array of channels.