What Channel Is Netflix on DISH?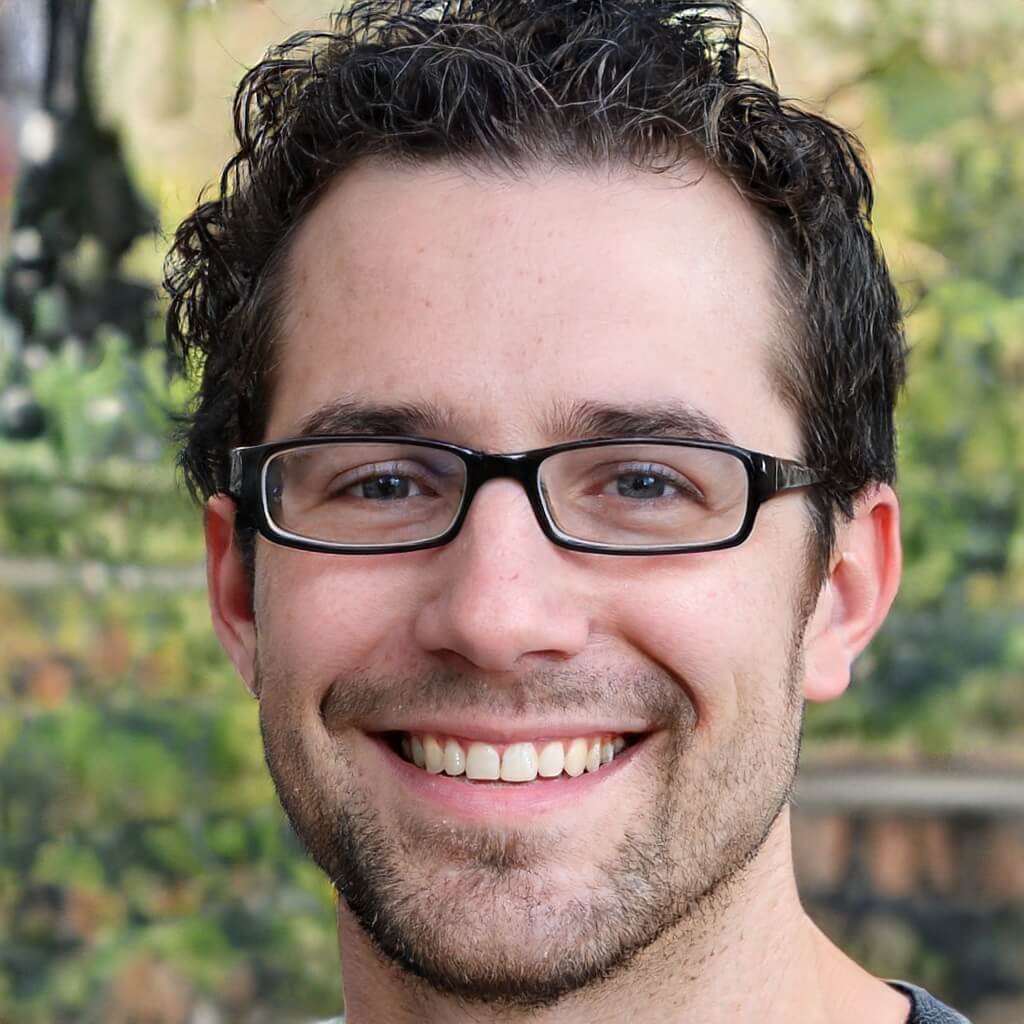 Your ability to connect to Netflix through your DISH service and binge-watch your favorite shows is a big part of your TV experience. Although DISH network comes with many great channels and offers outstanding service, sometimes the best way to unwind is to stream Netflix.
Netflix on DISH allows you to get the best of both worlds. The streaming service transitions well with DISH programming. And with the simple touch of a menu button, you can access Netflix within seconds.
The Netflix application is available on select receivers. Before you can automatically launch Netflix, you have to check that your DISH network receiver is compatible with the Netflix app. Don't worry, though. Checking your DISH receiver is a simple process and you'll be able to watch Netflix in no time.
How Do I Get a Netflix Channel?
Opening Netflix on DISH is easier than you think. In order to start to watch Netflix on DISH, all you have to do is navigate to DISH channel 302. Here's what you have to do.
Take a look at your remote and go to channel 302.
Your DISH receiver will take you to a new screen. Once you see the Netflix logo, select OK.
The Netflix app will open. Select SIGN IN to access your Netflix account.
Once you log in, your device will be connected to the app and you can watch Netflix on DISH.
Alternatively, if you have a DISH voice remote, you can also say "Go to Netflix" and it will take you directly to the app.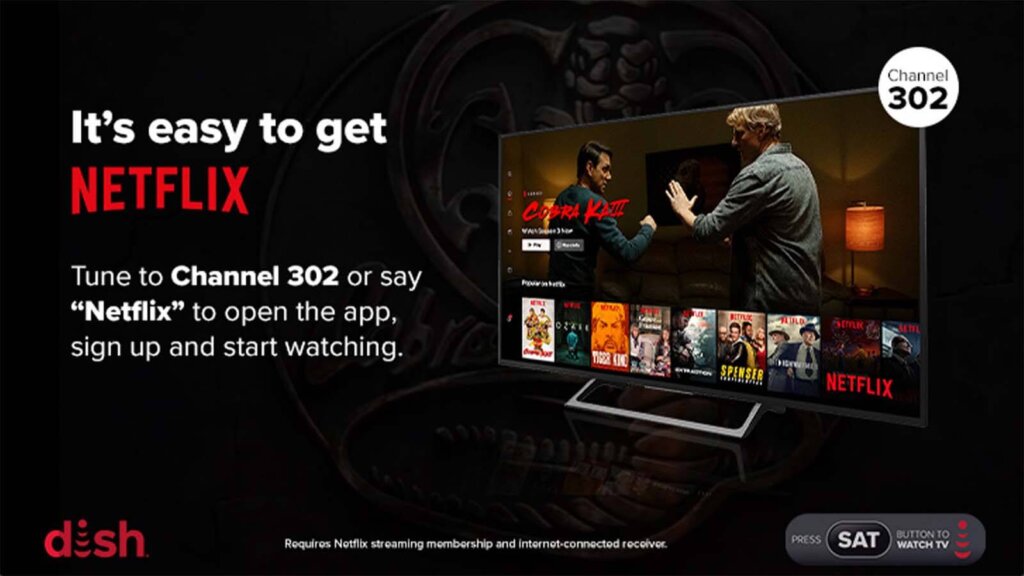 How Do You Search on the Netflix App on DISH?
One of the best features that your DISH TV offers are the ability to search for your favorite programming on Netflix through your DISH Hopper. As long as you're signed in to your Netflix account, you'll be able to see search results with a Wally, Hopper 3, Super Joey, Hopper with Sling, or Hopper Duo. Here's how to do it.
Step 1. Take a look at your remote. Press the MENU button or the HOME button.
Step 2. When the menu options pop up, select SEARCH.
Step 3. Search for the title of the TV series or movie you're looking for.
Step 4. Depending on the remote you have, press the RED color button or the OPTIONS button to integrate Netflix into the search results.
Step 5. A new screen will pop up on your TV. Select NETFLIX.
Step 6. Arrow to and simply select the program you'd like to watch through Netflix.
Step 7. If there are multiple episodes available, select the one you'd like to watch.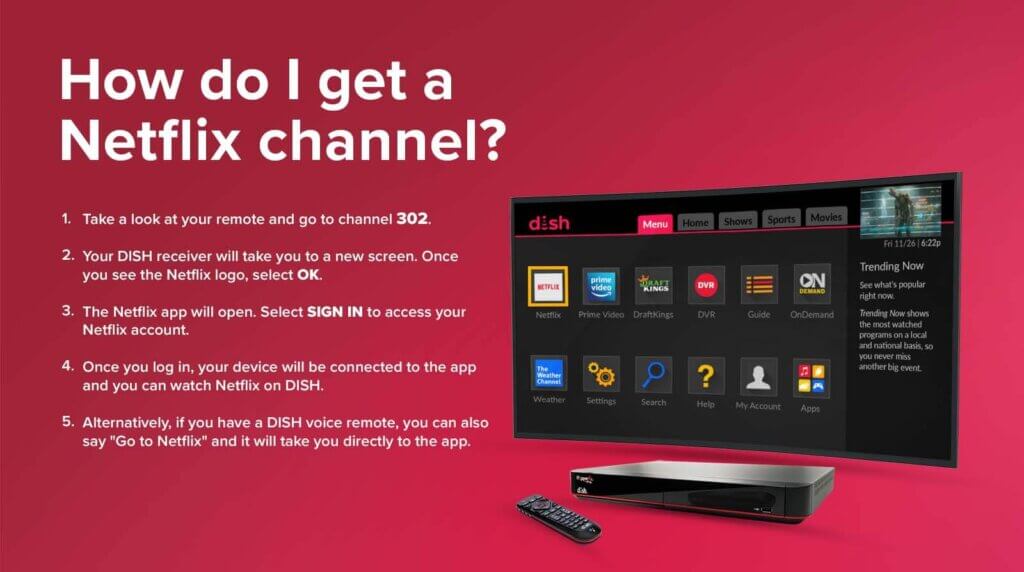 What Channel Is Netflix on DISH?
To watch Netflix through DISH Network, all you have to do is navigate to channel 302.
Can I Get Netflix on DISH?
Absolutely. Watching Netflix on your DISH is very similar to how you would watch your favorite programming through device apps. DISH TV was one of the first to introduce the Netflix app to its customers. The main goal is to provide you with a one-stop-shop for entertainment.
How to Connect Your DISH Receiver to Your Netflix Account
There are multiple ways to connect your receiver so that you can watch Netflix on DISH.
Connecting From the Menu
Take your remote and press the MENU button.
Once the menu pops up on the screen, select APPS.
You'll notice multiple apps on the screen. Find the Netflix app.
Select OK once NETFLIX is highlighted.
Netflix will open up to the login screen. To access your account, simply type in your information.
Connecting From Apps
Press the Blue Apps button on your remote.
Once you see all the app available, find the Netflix app.
Select OK once NETFLIX is highlighted.
Once Netflix opens, sign in like you normally would.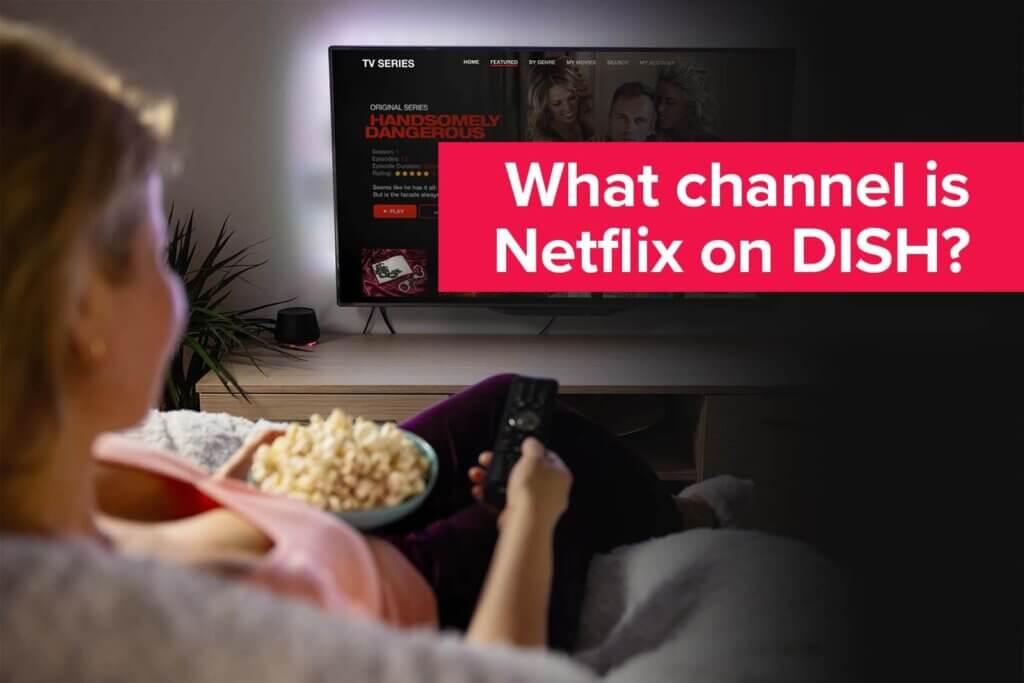 Connecting From Channel 302
With your remote, navigate to channel 302.
Once there, select OK to open the app.
The app will take you to the log-in screen. Type in your information to access Netflix.
Connecting From Netflix Button on AirTV Mini
On your remote, press the Netflix remote button.
Once the app opens, select SIGN IN.
Enter your email and password. Select CONTINUE once you're done.
Your device will now grant you instant access to favorite movies and programs.
Connecting From the Apps Menu on AirTV Mini
From the myTV Home Screen, select APPS at the bottom of the page.
Once you're on the app screen, find and select NETFLIX. Press OK.
This will take you to the log-in screen.
After you log in, you'll be connected to your account
How Much Is Netflix a Month on DISH?
The monthly fees for a Netflix plan through DISH vary. However, you can expect to pay between $8.99 and $17.99 per month depending on whether you'll want the service on multiple devices.
How Can I get Netflix on DISH Without Internet?
Because Netflix is a streaming app that downloads TV shows in real-time, you won't be able to enjoy Netflix without the Internet. You can watch all your favorite channels on your Wireless Joey without an Internet connection. But if you're looking to stream TV through Netflix, you'll need an Internet connection to access the app.
How Can I Get Netflix for Free?
Unfortunately, Netflix is not a free service. If you want to watch programming outside your local channels through a streaming app like Netflix, you'll have to subscribe to one of their plans.
Luckily, Netflix offers three different plans that work well with your DISH TV provider. All you have to do to start streaming your favorite movies is to go to channel 302 on your TV.
Is Netflix Free with DISH Network?
No. While you can access Netflix through DISH programming, it's not a free service.
How Do I Download Netflix on My DISH Hopper?
The process of downloading Netflix on your DISH Hopper is simple. All you have to do is access your apps through your DISH Hopper and select NETFLIX. Keep in mind that you will need a Netflix account to stream movies and shows through your TV.
Remember, DISH Network wants to make it easy for you to enjoy all your favorite channels, along with your favorite streaming apps. Adding Netflix to your viewing queue is just another way to enhance your home entertainment.