Satellite TV vs Cable TV: The Pros and Cons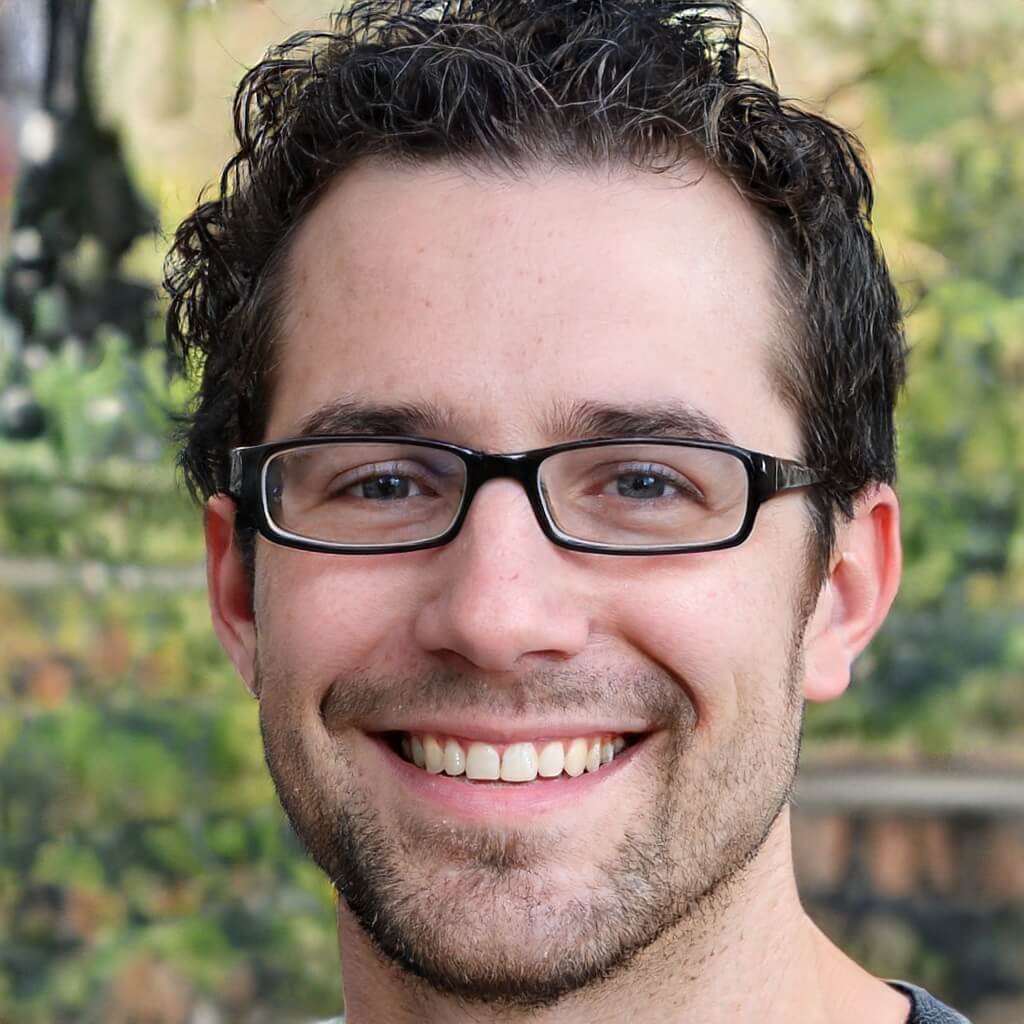 Finding the best TV service type for your household is always a little bit of a headache. There's a lot to consider. Offers and availability vary depending on where you live. Rural areas may have limited Internet options. Even bad weather can impact your picture quality.
Figuring out what type of TV service works best where you live is essential, especially if you reside in a rural area. So, what's better: cable or satellite TV?
Both guarantee Internet service, access to live TV, and plenty of TV plans. Availability for cable TV is often limited to a provider's coverage area. Satellite TV is more widely available but more susceptible to bad weather. Which one do you choose? Here's everything you need to know about cable and satellite TV.
What's the Difference Between Satellite and Cable TV?
Choosing between cable and satellite TV rests a lot on your knowledge of the two. Here's a quick rundown of each TV service.
Satellite Service
A satellite TV service works by sending signals to space through satellites. The signals are produced by programmers, or TV channels, that send their feeds directly to satellite TV providers. Satellite providers then use a satellite dish on the ground to transmit data to a satellite dish in space. One key fact to know about satellites is that they only work when they're facing the southern sky.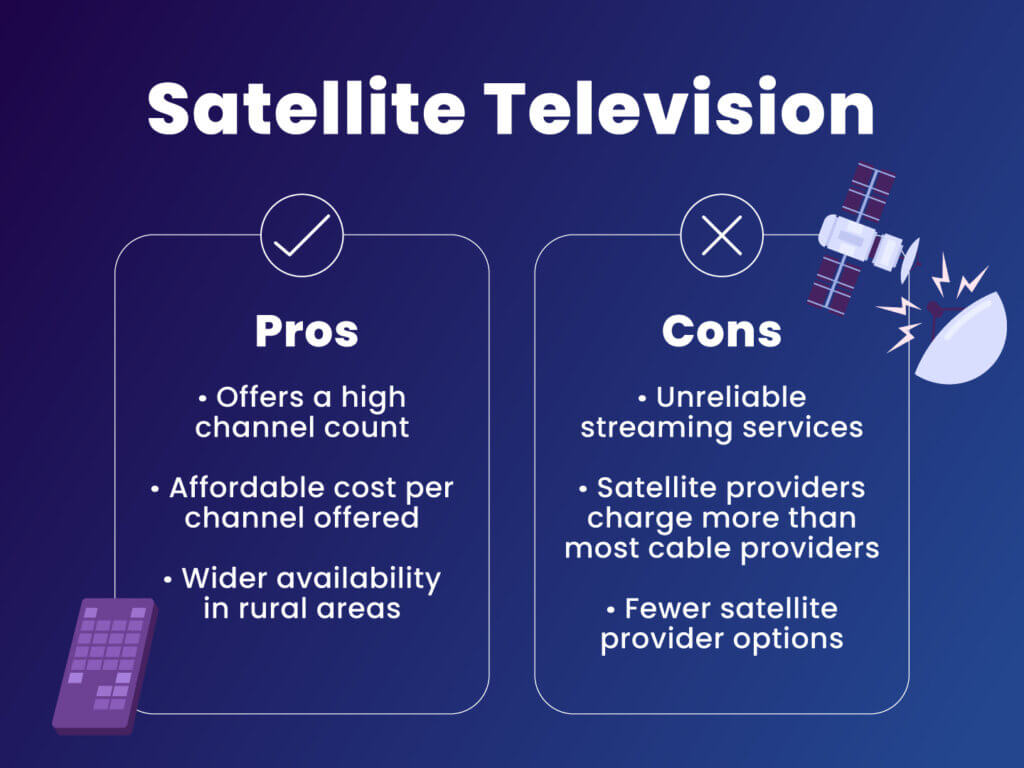 Cable Television
As the name suggests, cable companies make use of coaxial or fiber optic cables to transmit programming. In the United States, the use of cable television still surpasses more than half the population. As of 2022, 65% of Americans are still paying for a cable provider.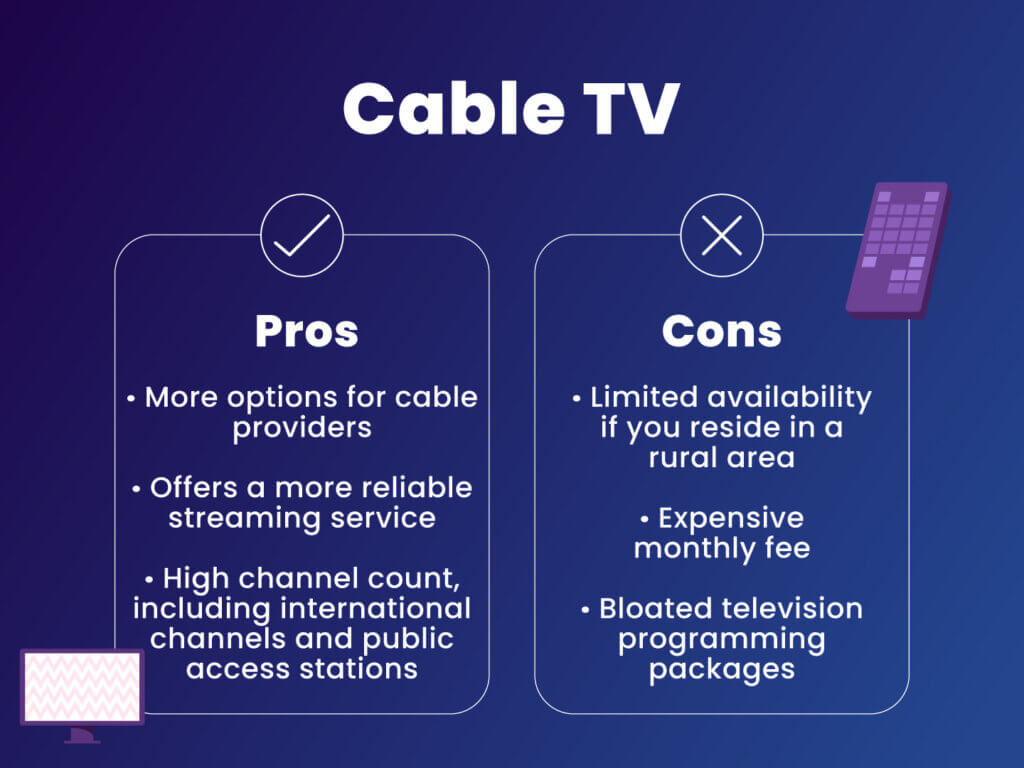 Satellite VS Cable: Pros and Cons
Now that you understand the basics of cable and satellite TV, it's time to understand exactly how these two types of services differ from each other. There are three key areas you need to focus on when it comes to making the comparison: pricing, channel lineups, and installation.
Cable VS Satellite TV: Pricing
Price is one of the main factors that will drive you to choose either cable TV or satellite TV. Outside of phone service, as a consumer, you're looking for packages that also comprise Internet service with a decent speed and a channel selection that's to your liking.
In terms of cost, and depending on the type of package you're looking for and channels offered by the provider, cable TV might be cheaper in some instances. However, you also have to keep in mind that while satellite service prices may seem higher at times, with a satellite service you have more availability in remote areas.
In this case, you have to weigh the pros and cons of your own individual situation. A good point of reference is knowing how much you can expect to pay for each service.
Cable TV providers offer you tv plans ranging from $25 – $125 per month (TV-only plans). Satellite TV services range between $40 – $135 per month for the same quality of service cable TV providers offer but in remote areas. Both are affordable and both are reliable.
Pricing for the most common cable TV providers
Xfinity TV
Spectrum TV
Verizon TV
Pricing for the most common satellite TV providers
DISH TV

$54.99 – $104.99
290 channels

DIRECTV

$64.99 – $139.99
330 channels
Cable vs Satellite TV: Channels
It's tempting to assume a cable company provides more channels than satellite companies advertise. But, in reality, both cable and satellite providers offer you the same range of popular channels. Neither offers more channels than the other.
The only outstanding difference between cable vs satellite TV in terms of channels is that cable channels are slightly cheaper. But if quantity is what you're worried about, you can rest assured that neither service offers fewer channels than the other.
Moreover, while opting for a satellite dish instead of a cable line has its pros and cons, you should know that as far as entertainment goes, there's nothing you will miss by choosing satellite TV. For example, satellite TV providers can tailor packages like those for sports fans that cable TV offers. If you want to have access to the NFL Sunday Ticket, you can do that with satellite.
Both cable and satellite TV providers provide you with a wide range of options so that you never have to miss out on your favorite programming. Even basic cable packages will guarantee a good number of channels available for viewing.
Cable vs Satellite TV: Installation
For anything related to cable, whether that's cable Internet or cable TV, you'll likely need a tech to come out and install. It's the same thing with a satellite dish–the process is tedious at best and always much easier when a professional is around to do it.
While cable TV is a little simpler to install, the reality is that both cable TV and satellite TV can get complicated if you're not savvy enough to do it on your own. For example, with cable TV installations, sometimes it's easy to damage the coaxial cables if you put too much pressure on them.
Similarly, satellite TV depends on a dish that's pointed in the right direction. Whether it's a damaged coaxial cable or a satellite dish that's not pointing in the right direction, both types of installations have room for error. And if done incorrectly, both types of installation have the power to impact picture quality and service.
How Does DISH TV Compare to Cable?
If you're trying to figure out what the main differences are between DISH network and cable, then here's a quick rundown.
DISH Network
DISH is one of the most trusted satellite services available in the United States. DISH guarantees 99% signal reliability with its Reliability Guarantee. In terms of quality, DISH is not too different from cable services because they've been able to advance their technology enough to match cable services that are similar in their offers.
DISH is very much on par with industry cable companies and provides value and TV watching experience at an affordable price. A typical DISH package can:
Record LIVE TV and allow you to watch it anywhere, anytime.
Integrates well with other online apps, like Netflix, Youtube TV, and Pandora.
Ability to skip commercials with AutoHop.
Can record primetime shows to watch on your own time.
The difference between DISH and cable is not significant enough to jeopardize your TV-watching experience should you go with either service.
Satellite vs Cable: FAQs
What Are the Advantages of Satellite Class 7?
In general, satellites have enabled communications to be much faster than they ever would have been before. Although satellite services are advancing much slower than other technologies, a satellite remains an essential part of life.
That said, satellite class 7, in particular, are not only beneficial to communication but also impacts weather forecasting systems, and global positioning systems (GPS), and enables the transportation of instruments and passengers to space to perform experiments. These are only a few of the advantages of satellite class 7.
However, keep in mind that satellites are still sensitive to obstruction. For example, a satellite TV gets a clear reception only when there is nothing between the satellite dish and the southern sky. Anything that stands in the way, like a tree or a building, has the potential of disrupting the signal.
What Is the Difference Between Cable and Satellite TV?
Cable and satellite providers differ in the way that they deliver content to your screen. Cable providers make use of coaxial or fiber optic cables. Whereas satellite TV, as the name suggests, needs a satellite dish to transmit data to space.
Which Is Cheaper: Cable TV or Satellite TV?
Cable TV is cheaper in terms of cost per channel. Ultimately, both services are similar in pricing, especially when you consider whether you're in a cosmopolitan area or a more isolated part of the country. On average, you're likely to save around $50 between the two.
Is Satellite TV Better Than Cable TV?
In some ways, satellite TV is the same as cable TV. There's no reason why you shouldn't be able to find quality satellite companies that can offer the same features you'd find in a cable one. However, the main difference between the two types of services is that cable is a lot more stable than satellite.
Different factors affect satellite services. If your satellite isn't pointing in the right direction, it could deter you from enjoying good TV quality. Poor weather conditions can also impact the quality of service, along with signal stability.
Is Cable More Reliable Than Satellite TV Providers?
Yes, cable is more reliable than satellite. Cable's structure is all done through underground coaxial or fiber cables. The foundation is stronger and, therefore, a lot less likely to experience disruption.