The History of DISH Network: From Humble Beginnings to Household Name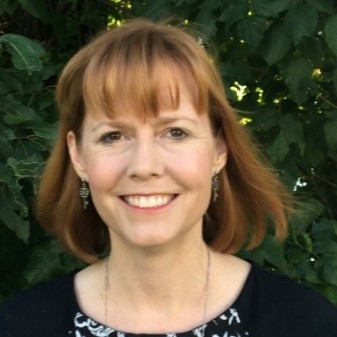 In the 1980s, Charlie Ergen, Candy Ergen, and Jim DeFranco founded a small satellite equipment company called EchoStar. They put in the elbow grease and hard work that all startups and small businesses demand of their founders.
Little did they know that their retail store would one day evolve into a Fortune 250 company and a name recognized all over the United States— DISH Network.
Determination Triumphs Over Near-Disaster
A now-legendary moment in early company history seemed to threaten ruin.
The Ergens and DeFranco hopped in a truck to drive one of their first two satellite dishes to a customer in Colorado. An unexpected gust of wind lifted the satellite off the truck bed and hurled it into a ditch. The founders, horrified, pulled over to find the satellite dish was destroyed. Half of their investment was gone, and they now had only one dish on which to build their business [1].

From that hair-raising start, they persisted. By the mid-1980s, EchoStar had become an industry leader in direct-to-home satellite hardware and services. But that was just the beginning.
In 1987, Charlie Ergen made an application for a direct-broadcast satellite license from the FCC. By 1992, EchoStar had acquired a license for one of only three satellite positions capable of broadcasting across the continental United States.
In the following year, EchoStar doubled its previous net annual income of $10 million to over $20 million. And in 1995, EchoStar launched its first satellite from China, the EchoStar I [2].
DISH Network is Born
With the launch of the company's first subscription television services, EchoStar created the name DISH Network as a consumer brand [3]. Under the name DISH Network, the company began to steadily develop new technologies to spring to the front of the pack in satellite TV service. In 1996, the company had 350,000 subscribers. By 1997, DISH subscribers had passed the one-million mark, and by 2000, there were 5.2 million subscribers to DISH Network [4].
Charlie Ergen, Leader and Visionary
The man responsible for this exponential growth was Charlie Ergen, the President and CEO of EchoStar and DISH Network. His initial vision to acquire a direct-broadcast satellite license launched the business into the stratosphere, both literally and financially.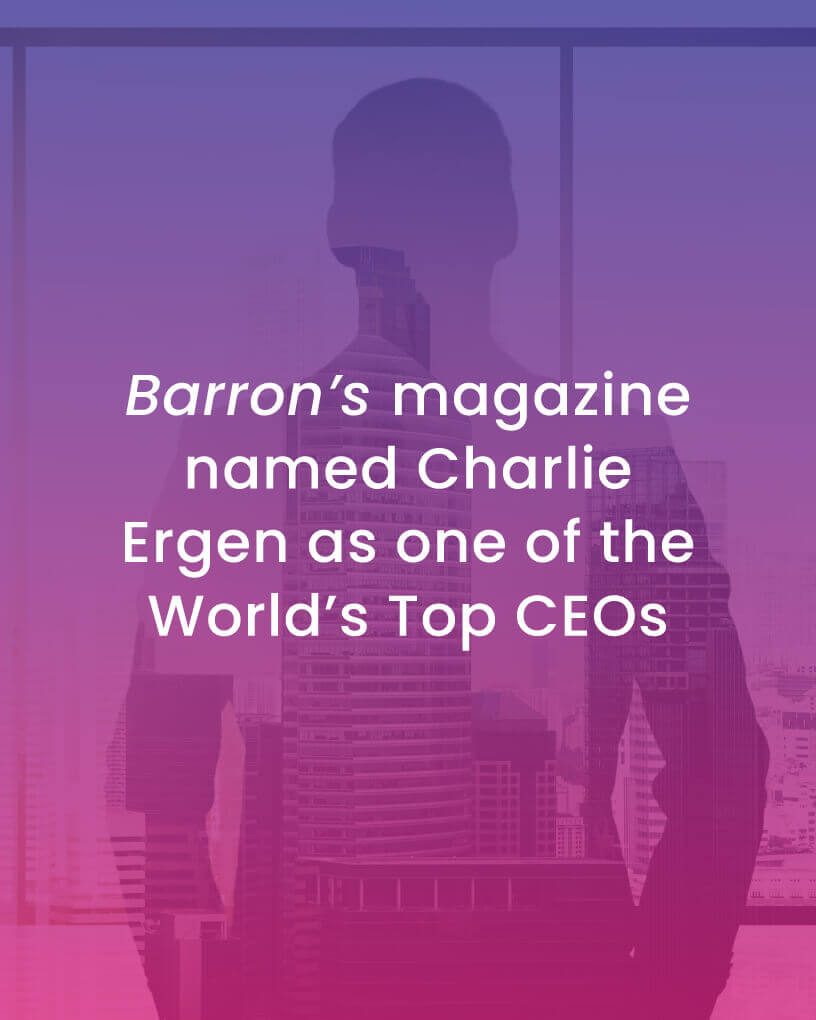 Ergen's family life laid the foundation for his classic American story of immigration, education, and hard work.
Ergen's father, an immigrant from Austria, was a nuclear physicist. His mother was an accountant. Ergen inherited a combination of their science and business skills.
Charlie Ergen earned a degree in business and accounting from the University of Tennessee, followed by an MBA from Wake Forest University. After he finished his studies, he began the business of EchoStar with his future wife, Candy and their business partner Jim DeFranco.
Chief Executive Officer Charlie Ergen earned many honors during his time leading DISH. Barron's magazine named him one of the "World's Best CEOs" and Forbes honored him as one of their "Top Ten CEOs."
Top entrepreneurs have the courage to take risks. If the story of DISH didn't already reveal this aspect of Charlie Ergen's character, it would be clear from Ergen's parallel achievements as a successful mountain climber who scaled Kilimanjaro and Everest. [5].
Ergen has made lasting contributions to the telecom industry in addition to his leadership at DISH. He worked to ensure the passage of the Satellite Home Viewer Improvement Act in 1999 and was co-founder of the Satellite Broadcasting Communications Association [6].
DISH Network as Industry Leader
Under the direction of CEO Charlie Ergen, the brand now known as DISH Network continued to innovate to capture an ever-increasing base of subscribers.
The introduction of the DISHPVR501 satellite-TV receiver in 2001 revolutionized the satellite television world with what is now known as DVR, or digital video recording. In 2005, DISH Network made even further advances in DVR technology to allow multi-room recording in high definition [7].
By 2008, DISH television had over 13 million subscribers. It was time to acknowledge the DISH brand as the powerhouse it had become. That year, the original EchoStar Communications Corporation changed its name to DISH Network Corporation and created a new company called EchoStar Corporation as its technology firm [8].
The following year, 2009, DISH took advantage of the boom in online entertainment and apps by launching DISH Anywhere. By giving subscribers access to 100% of their live and recorded TV, sports, and movies from any digital device and internet connection, DISH Anywhere broke new ground in entertainment. DISH Anywhere remains a very important benefit of DISH service [7].
In 2011, Charlie Ergen took a four-year hiatus from his role as President & CEO to focus on strategy as DISH's Chairman of the Board. For that period, Joseph Clayton served as President and CEO [9].

DISH Expansion with Blockbuster Purchase
The same year, DISH Network made a move that would prove to be crucial to its future programming. By purchasing Blockbuster and its intellectual property rights, DISH added a massive number of films and TV series to its library [10]. That purchase eventually led to the creation of DISH Movie Packs for subscribers and the SlingTV streaming service [11].
Innovation in DISH Technology Continues
For the next few years, new offerings in technology and equipment continued to attract more customers to DISH Network.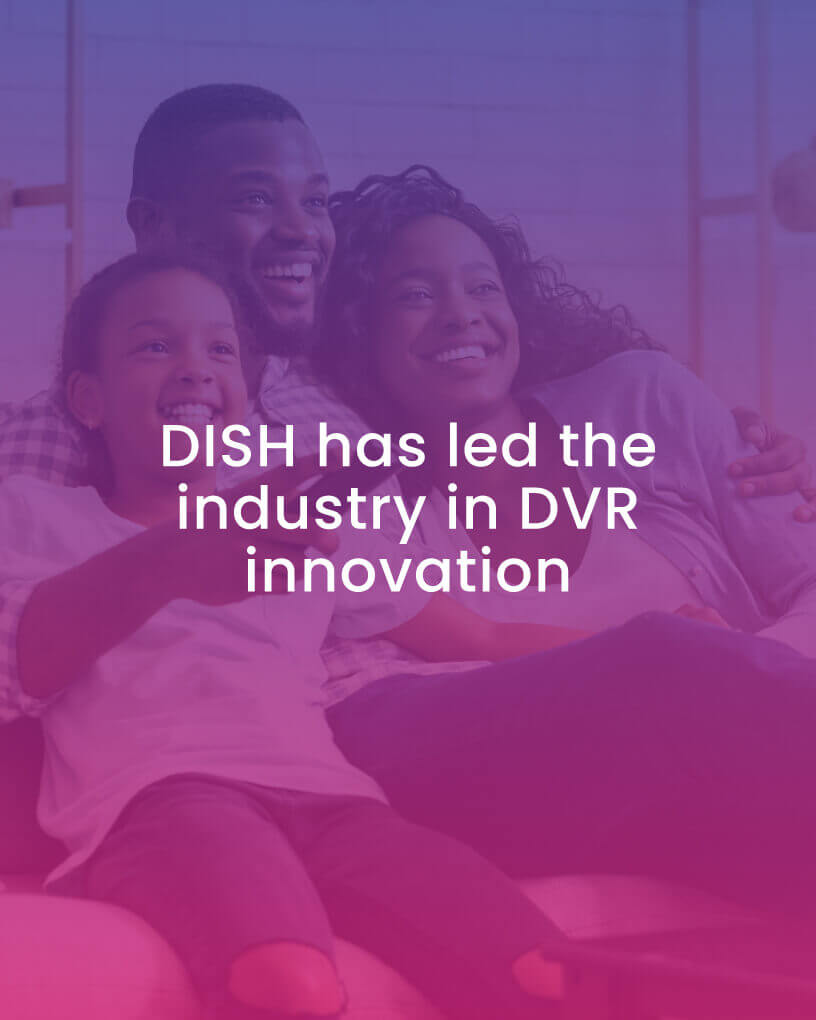 In 2012, DISH introduced the Hopper, its cutting-edge DVR, paired with a Joey to allow viewers to watch recorded shows in HD in any room in their home.  A new feature called AutoHop also enabled faster skipping of commercials for a smooth viewing experience [12]. The next year, the Wireless Joey boxes gave viewers freedom to position their TVs anywhere they liked with outlet access, eliminating the need for cords between the Joey and the TV.
In 2014, DISH began the first of its provider collaborations on remote control technology by adding Netflix into the Hopper. Instead of using multiple remotes, viewers could use one powerful DISH remote to access their preferred channels with ease [7].
DISH Hopper 3; Ergen returns as CEO
2015 brought the return of Charlie Ergen to the President and CEO role for DISH after Joseph Clayton's retirement.
That year was a banner year for DVR technology, as DISH unveiled the Hopper 3. Called by Wired magazine "the most ludicrously powerful cable box ever," the Hopper 3 allows viewers to record 16 shows at once from seven different TVs [13]. The Hopper 3 is still the most powerful and versatile DVR in the industry with two terabytes of storage supporting 2000 hours of recording space.
DISH's streaming service, Sling TV, also launched in 2015, and had grown to 2.5 million subscribers by early 2022 [14].
2017: Carlson Appointed as President and CEO
With technology and the telecom industry moving at a dizzying rate of change, Charlie Ergen stepped down from the CEO role once more to serve as DISH Chair of the Board and focus on the company's emerging wireless business [15].
Erik Carlson was named at that time to take over as President and CEO of DISH. A longtime veteran DISH employee, Carlson was serving as President and Chief Operating Officer when the call came to move to the CEO role.
Before that, Carlson had managed a number of DISH divisions, including In-Home Services, Customer Service Centers, Customer Billing, IT, Retail Service and Sales, and Manufacturing.  Having worked for DISH for over twenty years, Carlson had an intimate knowledge of the workings of the whole company that made him a natural choice for the CEO role [16].
DISH Sets the Pace in Consumer Technology
Recent years at DISH have brought even more digital milestones to improve the customer experience.
      In 2017, DISH collaborated to bring Amazon Alexa voice control to the DISH Hopper.
      The On Demand Library expanded with thousands more movies and shows in 2018.
      2019 saw the integration of Amazon Prime Video with the DISH Hopper 3, so viewers can access Amazon Prime simply by speaking into their  Voice Remote control.

DISH Wireless
DISH Wireless service was founded in 2020 and is already the fourth-largest wireless carrier in the USA. DISH Wireless had 8 million subscribers as of late 2022.
DISH continues to innovate in wireless, building the nation's first virtualized, O-RAN 5G broadband network [17].
In 2022, DISH Wireless also announced that it had succeeded in meeting the FCC mandate to provide coverage to 20% of the U.S. population. By June 2023, DISH will provide wireless coverage to an impressive 70% of the U.S. population [18].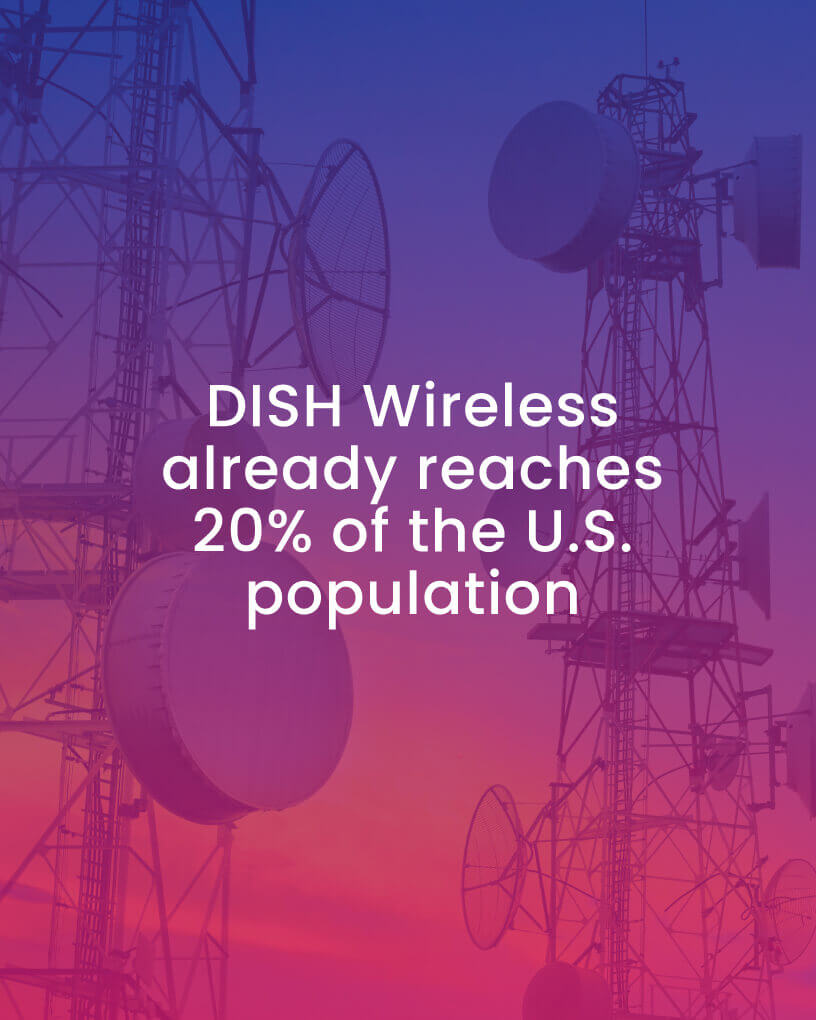 Into the Future with DISH TV and DISH Wireless
As DISH builds on its decades-long history, there is much to look forward to with ongoing innovation in technology and customer service. DISH has proven again and again that it can keep ahead of the game in its offerings, diversifying and growing along with a changing digital culture.
As Charlie Ergen said in a 2013 interview with CNBC, "When you deal with change, you have a couple of choices: you can lead it and make the rules, or you can be a fast follower, or you can be a slow follower" [19].
The history of DISH Network has always been about leading change. The future will hold more industry-leading action as DISH continues to open up new areas of technology, fusing categories and reimagining the future of telecommunications.
The History of DISH Network: Timeline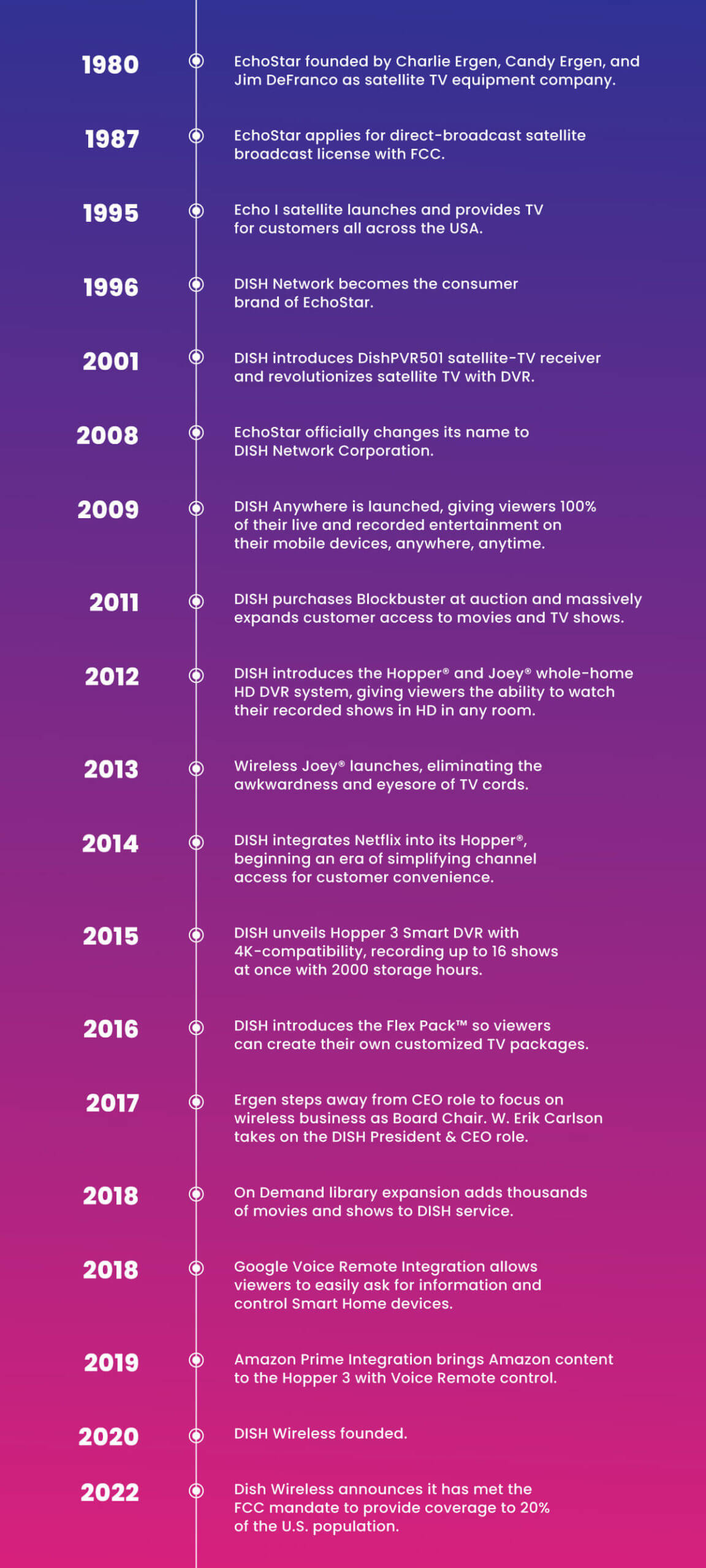 References
| | |
| --- | --- |
| [1] | A. Cohen, "Satellite Showdown," 12 August 2021. [Online]. |
| [2] | "International Directory of Company Histories," 2001. [Online]. |
| [3] | D. Logan, "The Scoop on the Dish," 7 September 1996. [Online]. |
| [4] | DISH, "Annual Reports 1996-2000," 1996. [Online]. |
| [5] | UT Staff, "100 Distinguished Alumni," 2022. [Online]. |
| [6] | DISH.com, "Charlie Ergen." [Online]. |
| [7] | DISH.com, "Our History," 2022. [Online]. |
| [8] | T. Spangler, "EchoStar Names Dugan CEO, As Ergen Remains Chairman," 18 November 2009. [Online]. |
| [9] | G. Avery, "New Dish Network CEO sees changed company soon," 16 May 2011. [Online]. |
| [10] | B. Fritz, "DISH Network wins bidding for assets of bankrupt Blockbuster," 7 April 2011. [Online]. |
| [11] | Wikipedia, "Dish Network," December 2022. [Online]. |
| [12] | T. Sottek, "Dish Network's Joey and Hopper DVR system now available," 15 March 2012. [Online]. |
| [13] | D. Pierce, "The Hopper 3 is the Most Ludicrously Powerful Cable Box Ever," 5 January 2016. [Online]. |
| [14] | J. Barnes, "Sling TV ended 2021 with 2.49 million subscribers," 24 February 2022. [Online]. |
| [15] | DISH.com, "DISH Names New CEO, Group Presidents, CHRO; Announces Organizational Framework," 5 December 2017. [Online]. |
| [16] | DISH.com, "Executive Bio: W. Erik Carlson," 2022. [Online]. |
| [17] | DISH Network Corporation, "DISH Network Reports Third Quarter 2022 Financial Results," 2 November 2022. [Online]. |
| [18] | Gunnerson Consulting, "Dish Wireless Network Progress," 2022. [Online]. |
| [19] | J. Boorstin, "Dish's Charlie Ergen Talks Ads, Cord-Cutting and Netflix," CNBC, 12 February 2013. [Online]. |