How To Pair Your Remote and DISH Receiver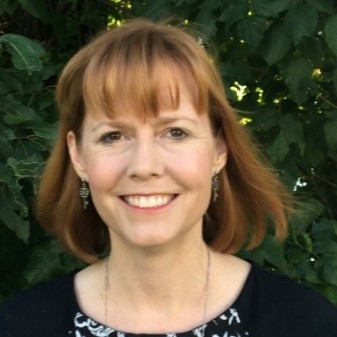 Not quite sure how to pair your remote and DISH receiver? It's simple when you know the right buttons to press.
If you need to replace or upgrade your remote, the remote pairing process is quick. In just a few minutes, you'll be watching great programming again through your Hopper, with your working remote in hand.
This guide will give you step-by-step instructions to program your remote to your DISH receiver, your TV, and other devices. First, learn how to program a DISH remote. Then, find out how to pair a universal remote with DISH, in case you need one in a pinch.

How Do I Program My DISH Remote to My TV Receiver?
Let's start with DISH remote controls. The great advantage of a DISH remote control is that it will be compatible with your DISH receiver. DISH remotes are easy to identify because each DISH remote has a DISH logo printed on it.
Before you start to program your DISH remote to your TV,  you'll need to figure out what kind of remote model you have. Many remote models are available, and their setups vary somewhat from one model to the next.


Which Remote Do I Have?
DISH Network provides a guide for customers to identify all the types of remotes that come with their products. Click on the model that most resembles your remote. Once you know which DISH remote you have, you can follow the next steps.
Be aware that DISH remotes vary a little in their layout and capabilities, and not all DISH remotes will be able to do exactly the same things with your Hopper, ViP receiver or smart home devices. If you want to get a new DISH remote, you may not be sure how they differ from each other.  In general, the newest remotes will have the most advanced functions.

Find the Pairing Code
The more advanced remotes pair instantly without a code. But if your DISH remote doesn't automatically pair, you can look for the right code in your device's instruction manual.  Or, you can navigate to the DISH remote guide page to see if you can find your remote code. (Hint: there are many other  remote codes on this page, so the information there may also help you find a non-DISH branded remote.)
Once you are on the page, scroll down until you see this screen. Look for the link highlighted below in blue under the ViP Receivers section.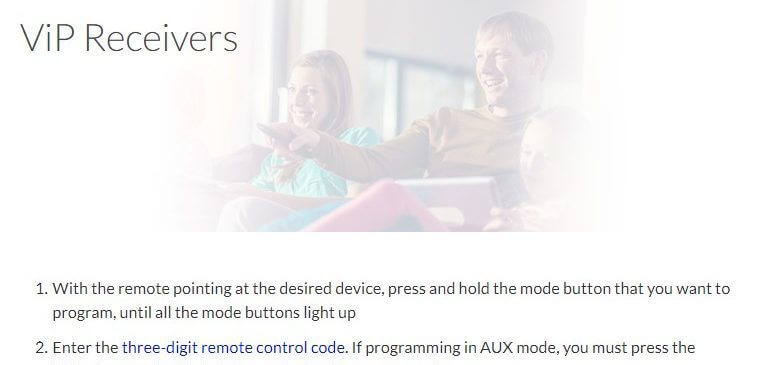 When you are on that page, click on the link labeled "three-digit remote control code." That link will bring up a widget that will allow you to search your remote code by type, brand, and device. (You can't get there from this page: you have to be on the remote guide page to click the widget.) Once you have found your code, proceed to the next steps.
Program Remote to Receiver
On the front panel of your receiver, you'll see a series of buttons. Press the button on the front that says SYSTEM INFO.
Now take a look at your remote. Locate the SAT button and press it.
Right after you press the SAT button, the SYSTEM INFO screen will pop up. Once this happens, click DONE and you're all set.
In case the screen does not clear after the process is done, press the CANCEL or BACK button and repeat the first three steps.
Input Pairing Code
Now that your DISH remote is paired, your receiver will prompt you to input the pairing code. Once you enter it, you're good to go.
How Do I Pair My DISH Remote to My TV or Another A/V Device?
Before you start this process, know which receiver you have set up on your TV. Follow the instructions for Hopper receivers or ViP-model receivers below.


How to Pair Your Remote Control to TV through Hopper / Joey / Wally Receivers
Depending on your type of remote, press either the HOME button twice or the MENU button twice.
Select SETTINGS.
Scroll down until you can select REMOTE CONTROL.
Arrow to the device code you want and select the one for your TV or other device.
Choose the appropriate Pairing Wizard for your device.
Follow the prompts on the screen to complete the setup.
How to Program Your Dish Remote to TV through ViP Receivers
Point your remote to the device you want to pair it with. Press and hold the mode button you want to program. You'll see that all the buttons light up.
When the buttons light up, enter the three-digit code. See steps 3-6 if you are in the AUX mode, otherwise skip to step 7.
If you're programming everything in AUX mode, you'll have to press the following number first before entering the appropriate code.
0 for a TV (i.e. if the code is 700, you'll enter 0700).
1 for a DVD player or VCR (If the code is 899, enter 1899).
2 for any other device (if the code is 242, enter 2242).
Once you have entered the correct code, press the # button.
The mode button you selected at the beginning of the process will flash three times.
Next, press the POWER button on your DISH remote. If the device turns off, then the process has completed successfully.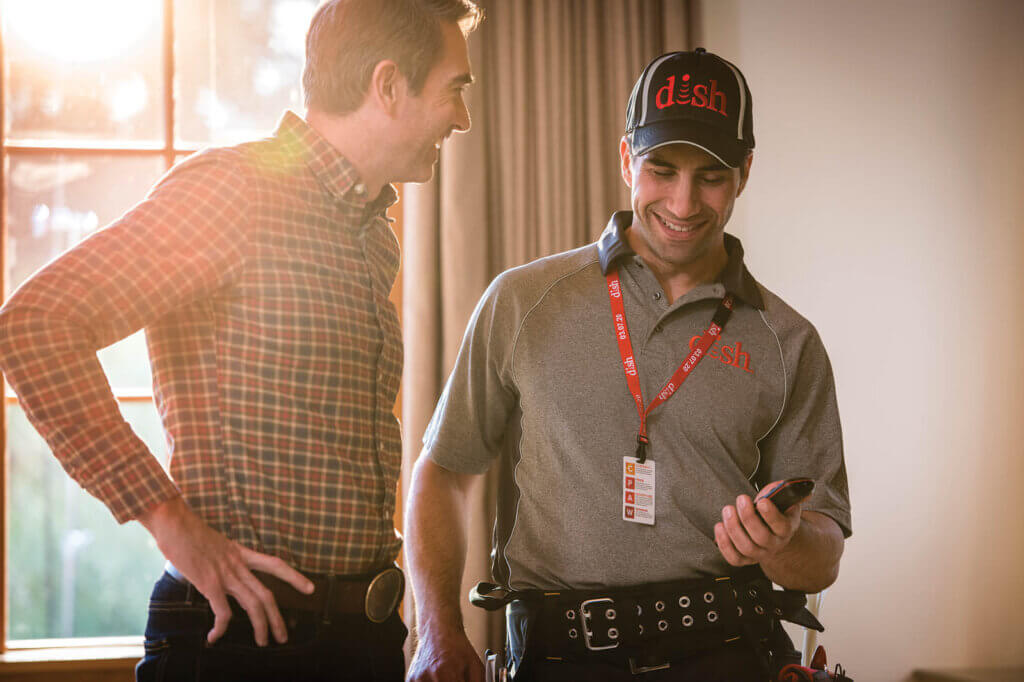 Do Universal Remotes Work with DISH Network?
Many universal remotes will work with DISH Network devices.
Anytime you receive a DISH Network receiver, you'll also get a DISH remote with it. But, if you prefer to pair other remotes to the receiver, you won't have trouble setting them up as long as they are compatible.
Once you pair a universal remote to the receiver, you'll have access to the usual functions. You'll be able to turn the TV on and off with the power buttons, control volume buttons, and set up recording settings just like you would with a DISH remote.
Check for Compatibility
If you're replacing an old remote, it's important to make sure that your new equipment is compatible with your setup, especially if you are trying to use a universal remote. Make sure that any universal remote you purchase is rated for infrared (IR) frequency of 57 kHz.
This guideline won't apply to customers setting up brand new DISH equipment, as you will get a compatible DISH remote with your new receiver.
How to Program a Universal Remote to Your DISH Network Receiver
Universal remotes vary, so it's a good idea to read the directions for your universal remote to find more specifics on how to pair it with devices.  However, below is a general procedure that will work for many universal remotes to pair to a receiver.
Locate the SAT button on the front of your remote. Press and hold it for a few seconds until you see the other mode buttons light up.
Once other buttons start flashing, press the 3-digit remote code: 000. This is your pairing code.
Once you punch in the 3-digit code, press the POWER button and see if your receiver turns off.
If your receiver turns off, everything is programmed correctly. Simply press the POWER button again to turn the TV back on.
How to Reset Your DISH Remote Control
The easiest way to do this is to unpair and pair the remote as a way to reset it. This process only takes two simple steps.
On the front panel of your receiver, press the SYS INFO button.
Once you press the SYS INFO button, use the arrows to select UNPAIR.
This will unpair your remote from your device. Wait a few minutes and re-pair the remote to your receiver.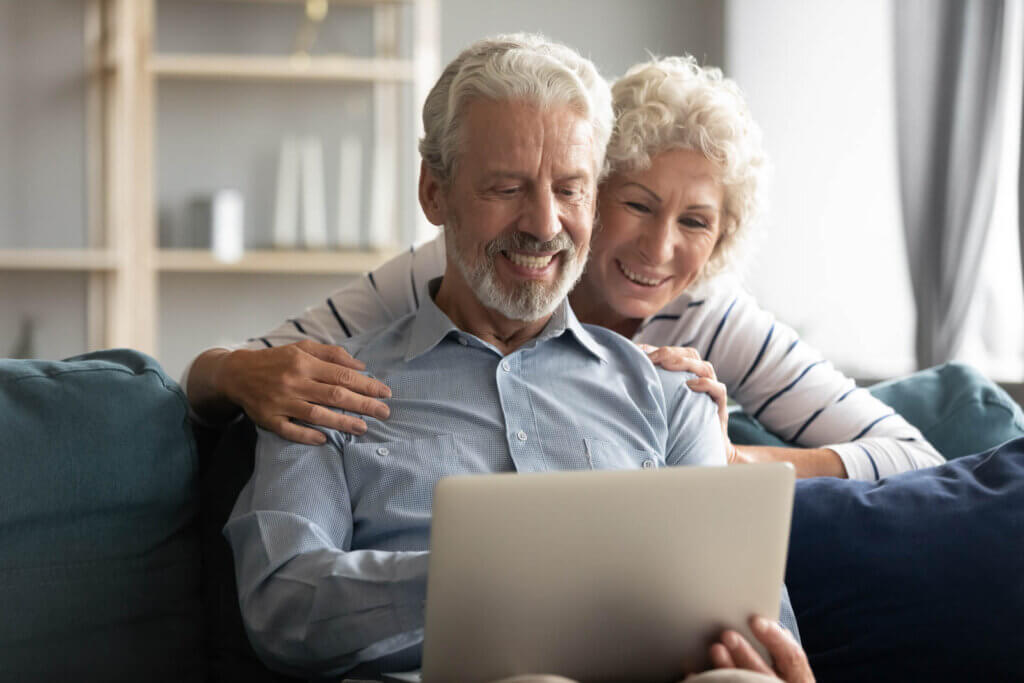 How Do I Program My DISH Network Remote Without a Code?
Pairing your remote control without a code is possible. Your success will vary depending on the remote control model.
More recent DISH models from the 40 to 50 series are likely to pair without a code.  (Remember that DISH has a remote guide and link to help you find your code, as listed in the Find the Pairing Code section of this guide.)
How to Program Remote Models 40.0, 50.0, 52.0, and 54.0 Without a Code
Locate the HOME button on your DISH remote and press it twice.
If your remote does not have a HOME button, press the MENU button twice.
Once you do this, a screen will pop up. Go to SETTINGS and select REMOTE CONTROL on the display.
Now you'll see devices on the screen. Select the correct device that you want to pair your DISH remote to.
From the options on the menu displayed, select PAIRING WIZARD.
Once you do this, different brands will pop up on the screen. Select the correct brand of the device you want to connect to your DISH remote.
Because you don't have a code, the pairing wizard will prompt you to try a series of different codes to see which one works.
You will need to press the up directional button for the volume or power to test the first code. If this one doesn't work, try the next code. Keep going until the pairing wizard finds the right code.
Once the pairing is successful, select FINISH on the screen.
Programming your DISH remote to a receiver shouldn't give you a headache. But if you ever run into problems during the setup, you can always reach out to DISH and have them help you over the phone.
Remember, whether you have a DISH remote or a universal remote control, there's always a way to complete the setup successfully. Follow the steps in this article and you'll be using your remote in no time.
FAQs: Troubleshooting When You Pair Your Remote and DISH Receiver
Why isn't my remote working with DISH receiver or TV?
When a remote stops working, the most common problem is dead batteries. So before you get frustrated, put in a spare set of batteries to see if that's your only issue.
Why won't my remote change my TV volume?
If your remote is working otherwise but won't  change your TV volume, you probably need to pair it with your TV.
How do I use voice control on my DISH remote?
If you're new to voice control, it's easy to use! Just press and hold the MICROPHONE button while you speak a simple command. For example, you might say "Yellowstone" to find your favorite show, or "Go to channel 241."
Why did my remote make my screen black, blue, or snowy?
The most common reason why your screen won't cooperate is that you have accidentally pressed the wrong input button on your remote. You can set your remote in LIMITED MODE to keep you from accidentally changing inputs.
How can I find my lost remote control?
DISH devices like the Hopper and Joey have a "Locate Remote" button on the front. If you can't find your remote, press this button and the remote will begin to beep to lead you to it.